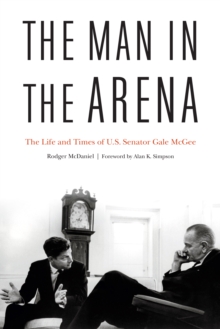 The Man in the Arena : The Life and Times of U.S. Senator Gale Mcgee
Hardback
Description
There was a time when Wyoming and other Rocky Mountain and Midwest states were as likely to elect a liberal Democrat to Congress as a conservative Republican.
Gale McGee (1915-92) was elected to the U.S. Senate in 1958, at the height of American liberalism.
He typified what Teddy Roosevelt called "the man in the arena" and was a major player in the development of America's post-World War II foreign policy and almost every legislative milestone in U.S. history from the 1950s to 1980. McGee's careers as an academic, senator, and ambassador spanned World War II, the Red Scare, the Korean and Vietnam Wars, and the activist Congress of the 1960s. This elegantly conceived biography of a liberal from the conservative rural state of Wyoming offers readers a glimpse into formative political shifts in the twentieth century.
The national liberal consensus of the 1960s, in which McGee played a major role, gave the nation Social Security, Medicare, Medicaid, the minimum wage, and the right to collective bargaining, as well as landmark civil rights and environmental reforms.
That consensus had ended by the mid-1970s as McGee's liberalism would no longer be welcome to represent the Equality State. Moving beyond biography, Rodger McDaniel addresses the significant shift in government and details how the attribution "liberal" became a candidate's epitaph, as widespread distrust of government cast a shadow on the many benefits acquired through the old liberal consensus.
McDaniel's insights into the past as well as McGee's experiences in the arena shed unexpected light on the present state of U.S. politics and government
Information
Format: Hardback
Pages: 416 pages
Publisher: University of Nebraska Press
Publication Date: 01/09/2018
ISBN: 9781640120013
Free Home Delivery
on all orders
Pick up orders
from local bookshops