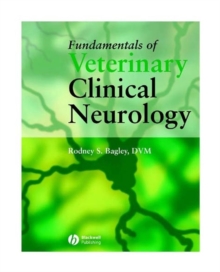 Fundamentals of Veterinary Clinical Neurology
Hardback
Description
Evaluating small animals with neurologic disease necessitates a fundamental understanding of neuroanatomy and neurophysiology.
Both clinicians and students alike can be overwhelmed by the complexity of the nervous system and its many functions.
While it is always important to have detailed knowledge of the separate elements of the nervous system, it is most important for those in clinical practice to develop an overall understanding of how these distinct elements are integrated, interrelate, and interreact within the nervous system.
Fundamentals of Veterinary Clinical Neurology offers a comprehensive yet practical overview of clinical neurology, providing clinicians and students with the unabridged knowledge they need to examine, diagnose, and treat disorders and diseases of the nervous system. Intended for veterinary students as well as for clinicians who want to refresh their basic understanding of veterinary neurology, Fundamentals of Veterinary Clinical Neurology covers all of the important considerations necessary for clinical evaluation of small animals with neurologic disease. Coverage includes basic concepts of nervous system functioning, clinical examination and problem identification associated with nervous system disease, neuroanatomical diagnosis, differential diagnosis (diseases of the nervous system), diagnostic testing, therapy, and clinical management of common and important neurologic conditions. * Equips veterinary clinicians and students in veterinary medicine with the basics of clinical neurology * Clear and comprehensive guidance through the nervous system and its functions * Written by a leading expert in the field of veterinary neurology
Information
Format: Hardback
Pages: 584 pages
Publisher: Iowa State University Press
Publication Date: 26/08/2005
Category: Veterinary medicine
ISBN: 9780813828435
Free Home Delivery
on all orders
Pick up orders
from local bookshops