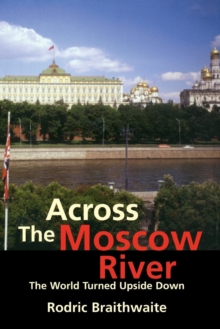 Across the Moscow River : The World Turned Upside Down
Paperback / softback
Description
'This extremely interesting, truthful, and honest book gives an objective and dramatic picture of Russia.
If others in the West had understood my country as profoundly as Rodric Braithwaite does, history would have treated us all more kindly.' Mikhail GorbachevRodric Braithwaite was British ambassador to Moscow during the critical years of Perestroika and the collapse of the Soviet Union, the failed coup of August 1991, and the rise of Boris Yeltsin.
From the vantage point of the British Embassy (once the mansion of the great nineteenth-century merchant Pavel Kharitonenko) with its commanding views across the Moscow River to Red Square and the Kremlin, Braithwaite had a ringside seat.
With his long experience of Russia and the Russians, who saw him as 'Mrs Thatcher's Ambassador', on good personal terms with Mikhail Gorbachev, he was in a privileged position close to the centre of Russia's changing relationship with the West.
But this is not primarily a memoir. It is an intimate analysis of momentous change and the people who drove it, against the background of Russia's long history and its unique but essentially European culture.
Braithwaite watched as Gorbachev and his allies struggled to modernise and democratise a system which had already reached the point of terminal decay.
Against the opposition of the generals, they forced the abandonment of the nuclear confrontation as the Soviet Union fell apart.
The climax of the drama came in August 1991 when a miscellaneous collection of conservative patriots - generals, politicians and secret policemen - attempted to reverse the course of history and succeeded only in accelerating the collapse of the Soviet Union.
Braithwaite left Moscow with Russia at its lowest ebb, grappling with the problems of an unfamiliar market economy on its uncertain path towards becoming a modern liberal state.
Written with vigour, frankness and hope, and with a considerable feel for atmosphere and tension, this is a revealing and compassionate account of one of the twentieth century's most dramatic reversals of fortune.
Rodric Braithwaite and his wife Jill were based in Moscow from September 1988 to May 1992.
Information
Format: Paperback / softback
Pages: 386 pages
Publisher: Yale University Press
Publication Date: 12/07/2013
Category: European history
ISBN: 9780300204186
Free Home Delivery
on all orders
Pick up orders
from local bookshops
Also by Rodric Braithwaite