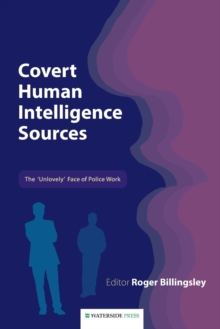 Covert Human Intelligence Sources : The 'unlovely' Face of Police Work
Paperback
Description
A unique insight into the hidden world of informers and related aspects of covert and undercover policing.
Edited by Roger Billingsley, head of the Covert Policing Standards Unit at New Scotland Yard, this book is the first to look behind the scenes of this kind of police work since the authorities relaxed the rules on restricted information.
Contents: Covert Human Intelligence Sources (CHIS) covers such key matters as: What is meant by CHIS; The legal framework; The Regulation of Investigatory Powers Act 2000 (RIPA); Inherent powers and the position at Common Law; 'Informers' and 'informants'; Working methods and oversight; Handlers, controllers and authorising officers; Dangers and risks; Human rights, proportionality and 'necessity'; Corruption and 'noble cause corruption'; Protection and the duty of care; Motives of informers; Official participation in crime: how far is it lawful?;Undercover officers: strains, duties and requirements; Records and management of information; Juvenile informers; Texts, public interest immunity and anonymity; Debriefing and human memory; The context of informer relationships; Ownership of intelligence and communications; A European perspective; General background, views and opinions.
Reviews 'A comprehensive and easy to follow / research text that covers a wide range of matters relating to informants and aspects of undercover police work.
There are few texts dedicated soley to this area and as such this book will be of great value to professionals, academics, students and others who are are concerned with this important area of criminal investigation': Peter Hall, Coventry University 'A welcome addition that has drawn together a series of chapters from leading police officers, lawyers and academics, on an area of police work which can sometimes be ambiguous, occasionally uncharted, and where legislation presents the uninitiated with periods of bafflement and confusion. [The editor] does go someway to removing the mystery about this area of policing': Brief (the voice of Greater Manchester Police) Editor and Contributors Roger Billingsley served for 32 years in the English police service, mainly within the field of criminal investigation.
He was actively involved in the world of informers - as a handler, controller and authorising officer - and later headed London's Metropolitan Police Service Covert Policing Standards Unit, dealing with every aspect of covert policing, including informers.
Contributors: Jonathan Lennon, Clive Harfield, Ben Fitzpatrick, John Potts, Kingsley Hyland OBE, John Buckley, Alisdair Gillespie and Michael Fishwick.
With a preface by John Grieve QPM and a Foreword by Jon Murphy QPM
Information
Format: Paperback
Pages: 192 pages, 1, black & white illustrations
Publisher: Waterside Press
Publication Date: 01/09/2008
Category: Police & security services
ISBN: 9781904380443
Free Home Delivery
on all orders
Pick up orders
from local bookshops