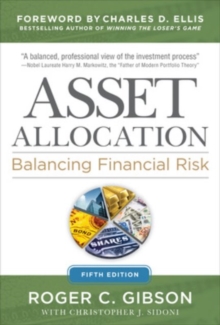 Asset Allocation: Balancing Financial Risk, Fifth Edition
Hardback
Description
The Definitive Guide to Strategic Asset AllocationUniting theory and practice--the art and science of asset allocationInvestors long to beat the market, and money managers accept that as their mandate.
The sad reality is that most money managers underperform the market, and individualinvestors do even worse.
Investors also face emotional challenges. The irrational exuberance of the 1990s, for instance, can as easily derail a sensible investment strategy as the market panic accompanying the GlobalFinancial Crisis. Since Roger Gibson wrote the first edition of this book over 25 years ago, his multiple-assetclass investment approach has given investors a disciplined strategy for mitigating risks and realizing their financial goals through widely varying market environments. Grounded in the principles of modern portfolio theory, this fi fth edition of his investing classic explains how and why asset allocation works.
Gibson demonstrates how adding new asset classes to a portfolio improves its risk-adjusted returns and how strategic asset allocation uses,rather than fights, the forces of the capital markets to achieve fi nancial success. New topics in this edition include:The success of multiple-asset-class investing during the stock market's "lost decade"Methods for forecasting long-term asset class returns and the limitations of predictionThe dangers of market timing and the challenges involved in tactical asset allocation strategies--with insights from the field of behavioral financeObservations from the Global SIDONI Financial Crisis of 2008 and what it means for the multiple-asset-classinvestorWith more than three decades of experience managing clients' portfolios and expectations, Gibson underscores the importance of identifying and working through the emotional and psychological traps that impede investment success. Join the quarter-century trend of Asset Allocation providing investors with a sound approach to financial well-being. PRAISE FOR ASSET ALLOCATION:"Roger Gibson has revolutionized the way financial advisors assemble portfolios for their clients.
He is, without a doubt, the best and most articulate voice on the subject of asset allocation today." -- DON PHILLIPS, President, Investment Research, Morningstar, Inc. "[Gibson's book] should be of enormous benefit to the investor seeking the proper decision-making process.
I congratulate [him] for treating the asset allocation subject in such depth and bringing this issue, which is the critical investment issue for all investors, to the forefront.
It is the best overall piece of work I have seen." -- GARY P.
BRINSON, President and CEO, GP Brinson Investments"I always look forward to each new edition of Roger Gibson's (now with Christopher Sidoni) asset allocation book.
The extensive data is updated with new chapters on the financial crisis and forecasting.
This practical book focuses on meeting investor objectives in a risky world." -- ROGER G.
IBBOTSON, Yale Professor, Chairman of Zebra Capital Management, Founder of Ibbotson Associates, now a Morningstar Company"Roger Gibson's book should be a 'go-to' resource for every serious financial advisor." -- JOHN D.
ROGERS, CFA, President and Chief Executive Officer, CFA Institute"The author balances a solid, understandable, and logical grasp of investment knowledge with an obvious input of practical experience.
If all investment advisors would read and understand this book, clients would be far better off." -- DARWIN M.
BAYSTON, CFA, Past President and CEO, The Association for Investment Management Research
Information
Format: Hardback
Pages: 448 pages, 75 Illustrations, unspecified
Publisher: McGraw-Hill Education - Europe
Publication Date: 21/05/2013
Category: Investment & securities
ISBN: 9780071804189
Free Home Delivery
on all orders
Pick up orders
from local bookshops
Also by Roger C. Gibson