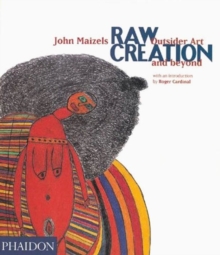 Raw Creation : Outsider Art and Beyond
Paperback
Description
The art of self-taught artists - including visionaries, folk creators, spiritualists, recluses, the 'mad' and the socially marginalized - was once scorned by the art establishment.
Among the first to value and collect such works was the French artist Jean Dubuffet (1901-85), who coined the term Art Brut, or 'raw art'.
He saw Art Brut as the purest form of creation because it was 'uncooked' by culture, touched by a raw nerve and deriving directly from the psyche.
Some 50 years later, a wave of enthusiasm for contemporary folk art has gripped countries as far apart as India and the United States.
John Maizels ties these disparate strands together, providing an extensive survey of the self-taught art of the twentieth century.
Today a bewildering range of terminology has emerged, along with growing enthusiasm, for strains of creative expression outside the conventional art world.
In Raw Creation, Maizels traces the history of the recognition and study of this art and examines different theories and definitions that have grown up around it.
He provides detailed expositions of the work of individual artists ranging from such Art Brut masters as Adolf Wolfli and Aloise Corbaz, to such gifted American folk artists as Bill Traylor and Mose Tolliver.
Devoting several chapters to large-scale visionary environments, Maizels takes a broad view, embracing Rodia towers in Watts, Los Angeles, the Palais Ideal in the South of France and Nek Chand's sculpture garden in north India.
Raw Creation provides an indispensable guide to self-taught art and a fascinating account of human creativity.
Information
Format: Paperback
Pages: 240 pages
Publisher: Phaidon Press Ltd
Publication Date: 30/08/2000
Category: Naive art
ISBN: 9780714840093
Free Home Delivery
on all orders
Pick up orders
from local bookshops
Reviews
Showing 1 - 1 of 1 reviews.
Review by zzshupinga
16/06/2015
Many people are confused upon hearing the term "outsider art." After all how can anything be outsider art when the definition of art is so loosely defined? And yet, this complicated term is somewhat of a standard in the art world and becoming more widely studied as more art historians (and artists) realize the importance that these creators have to our world. These folks that are self-taught, folk artists, etc. have an important place within the art world and this outstanding book takes a close look at their place in the world. Maizels experience within and interactions with these artists allows him to place their work into the context of art, history, and life. It is divided into three sections: Part one explores Art Brut, Dubuffet, and the art of the insane; part two focuses on folk and self-taught artists around the world; and part three looks at visionary environments. The book is composed of many fantastic photographs and illustrations that highlight just what is being discussed throughout the book. In fact if there is any complaint about the book is that sometimes the photographs overwhelm the text. Overall though this is an important book to a better understanding of the art world and is highly recommended for any artist, historian, or fan of art.
Also by Roger Cardinal