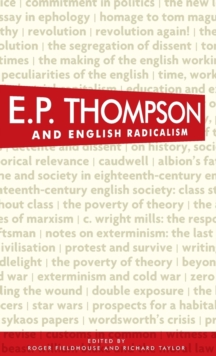 E. P. Thompson and English Radicalism
Hardback
Description
This collection of essays marks the fiftieth anniversary of the publication of E.
P. Thompson's most famous book, The Making of the English Working Class.
It was a highly influential work which contributed significantly to a revolution in the way history was studied, not only in Britain but in many countries.
Instead of viewing history solely in terms of kings, courtiers, aristocrats and politicians, historians began to consider the perspective of the common people.
E. P. Thompson and English radicalism gathers together a selection of leading authors from a diverse range of disciplines to critically review not only this pivotal work, but the wide range of his career, including his experience as an adult educator, writer, poet and critic.
His involvement in the early New Left, his political theories, his socialist humanism and his concept of class are all interrogated fully.
Thompson was also a notable and passionate political polemicist, peace campaigner and activist who saw all his public activity as complementary parts of a unified whole, and this collection aims to bring his ideas to the attention of a new generation of students, scholars and activists. -- .
Information
Format: Hardback
Pages: 272 pages
Publisher: Manchester University Press
Publication Date: 28/02/2014
Category: History: theory & methods
ISBN: 9780719088216