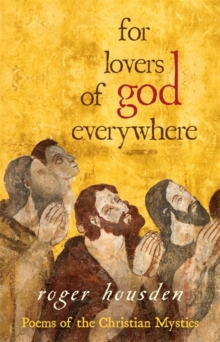 For Lovers of God Everywhere : Poems of The Christian Mystics
Paperback
Description
In For Lovers of God Everywhere Roger Housden offers 98 of the finest poems from both historic and contemporary writers.
This compelling collection puts a spotlight on the great spiritual voices of Christianity, a body of work that is unendingly rich, varied and inspiring. Housden takes us from the wisdom of the Desert Fathers to the passion of St.
Augustine, through the medieval ecstasies of St. Francis of Assisi and St. Catherine of Siena to the subtleties of St. John of the Cross and St. Teresa of Avila and on to contemporary voices like Rainer Maria Rilke, T.S.
Eliot, and Mary Oliver. Housden's insightful commentary on each poem inspires us to take in its words more deeply and shows how the mystical tradition transcends sectarian divides and speaks to the heart of humanity. While uncovering universal themes of longing and ecstasy, silence and wisdom, searching and doubt, the poets all share one goal: earthly union with the divine.
Poetry offers the reader the chance to discover realms of beauty and knowledge that we could not otherwise access.
Whether we want to find solace, have our thoughts challenged or notice the beauty of existence, the Christian poets transcendent words offer us truths that cannot be expressed otherwise.
Free Home Delivery
on all orders
Pick up orders
from local bookshops
Reviews
Showing 1 - 2 of 2 reviews.
Review by JFBallenger
16/06/2015
There are certainly some real gems to be found in this book, but I felt there was perhaps an overemphasis on eastern-oriented mysticism and self-negation. This is of course a significant approach to spirituality which should be well-represented in a volume like this, but it is a question of balance, and readers with a less material orientation to their spirituality may have no problem with the selection. I also found Housden's commentary somewhat platitudinous.
Review by vpfluke
16/06/2015
This is a real nice sampling of poetry from a range of Christian mystics. A poem sits on the left facing page with a description of the poem on the right. Included are such mystics as St. John of the Cross and Mechtild of Magdeburg, as well as more modern poets like Denise Levertov and R.S. Thomas, who are usually not thrown into the mystic ranks. I found myself wanting to pick up the book again and again to spend a few minutes with a poem, so I have put it on my wishlist.