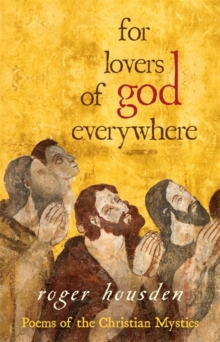 For Lovers of God Everywhere : Poems of the Christian Mystics
Paperback / softback
Description
In For Lovers of God Everywhere Roger Housden offers 98 of the finest poems from both historic and contemporary writers.
This compelling collection puts a spotlight on the great spiritual voices of Christianity, a body of work that is unendingly rich, varied and inspiring. Housden takes us from the wisdom of the Desert Fathers to the passion of St.
Augustine, through the medieval ecstasies of St. Francis of Assisi and St. Catherine of Siena to the subtleties of St. John of the Cross and St. Teresa of Avila and on to contemporary voices like Rainer Maria Rilke, T.S.
Eliot, and Mary Oliver. Housden's insightful commentary on each poem inspires us to take in its words more deeply and shows how the mystical tradition transcends sectarian divides and speaks to the heart of humanity. While uncovering universal themes of longing and ecstasy, silence and wisdom, searching and doubt, the poets all share one goal: earthly union with the divine.
Poetry offers the reader the chance to discover realms of beauty and knowledge that we could not otherwise access.
Whether we want to find solace, have our thoughts challenged or notice the beauty of existence, the Christian poets transcendent words offer us truths that cannot be expressed otherwise.
Information
Format:Paperback / softback
Pages:240 pages
Publisher:Hay House Inc
Publication Date:04/01/2010
Category:
ISBN:9781401923877