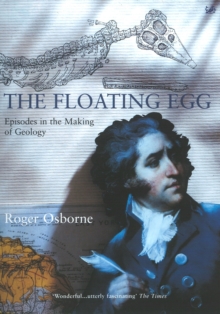 The Floating Egg : Episodes in the Making of Geology
Paperback
Description
The Floating Egg begins with the search for an alchemist's secret, and ends with the re-imagination of a past world.
Each chapter is connected to a particular corner of north-east England, and each explores the uncertain line where myth is dissolved into science, and belief gives way to knowledge.
Different episodes show how the fall of Constantinople converted the common rock of the Yorkshire cliffs into a source of extraordinary wealth and power, and how this in turn uncovered the inhabitants of a succession of past worlds; how a stone falling from the sky near this same coast changed the minds of all the natural philosophers of Europe; and how a new science was born on the top of the tower of York Minster.
We learn about the cloak-and-dagger world of fossil trading in the town of Whitby; and we see the entire life-work of a forgotten scientific genius who died from consumption at the age of twenty-five, having revolutionised his science.
The stories move from documentary accounts to fictional recreations of historic events, from contemporary writing and illustrations to present-day reflection.
By using different ways of describing the world of scientific endeavour, the author has produced a fascinating visually beautiful and highly entertaining book which allows us to witness the birth of a new science - the science of geology.
Free Home Delivery
on all orders
Pick up orders
from local bookshops
Reviews
Showing 1 - 1 of 1 reviews.
Review by vguy
16/06/2015
Dare I say it, something of a Curate's Egg. Being a kind of patchwork of different styles and genres, parts of it are indeed excellent.( eg, capt Cook & !dr Buckland are intriguing episodes, even thrilling, with a deep sense of science history & philosophy; but other parts are dull in the way of local history monographs. He clearly has a great love and knowledge of his territory around Whitby, but his striving to make it the centre of the geological universe go too far.