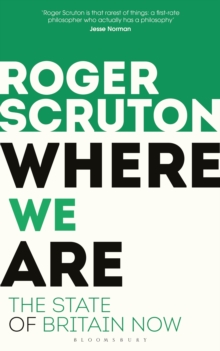 Where We Are : The State of Britain Now
Paperback / softback
Description
WINNER OF THE CATHOLIC HERALD BOOK AWARD Where We Are is philosopher Roger Scruton's personal response to the consequences of the 2017 'Brexit' vote.
This concise, engaging book is neither an argument to 'leave' nor to 'remain' but develops instead some fundamental ideas: What is national identity?
What defines our country? Who are we and what holds us together? As Scruton argues, these are the most important political questions of our time, and all across Europe people are beginning to ask them. This book is essential reading for anyone, of whatever political persuasion, interested in what it means to be British, what that might come to mean in future and how we will define our place in a rapidly changing world.
Information
Format: Paperback / softback
Pages: 256 pages
Publisher: Bloomsbury Publishing PLC
Publication Date: 07/03/2019
Category: Social & cultural history
ISBN: 9781472965141