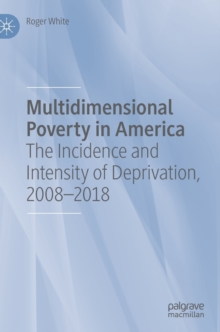 Multidimensional Poverty in America : The Incidence and Intensity of Deprivation, 2008-2018
Hardback
Description
This book investigates and documents multidimensional poverty in the United States and identifies patterns and relationships that contribute to the development of a more complete understanding of the incidence and intensity of deprivation.
The first part introduces multidimensional poverty and provides a rationale for viewing poverty through a lens of multiple deprivations.
It discusses how the Multidimensional Poverty Index (MPI) compares to more narrowly-focused, income-based poverty measures and emphasizes its usefulness and applicability for the formulation of related, welfare-enhancing public policies.
The second part documents multidimensional poverty incidence, intensity, and corresponding MPI values at the aggregate level of detail, for various demographic cohorts, and across geographic locales.
The book then presents results from an empirical analysis that identifies the determinants of multidimensional poverty incidence and of individual deprivation scores.
The third part consists of three studies of multidimensional poverty, examining the effect of the Affordable Care Act on multidimensional poverty incidence and intensity, variation in multidimensional poverty across native- and foreign-born residents (and across immigrants' home countries) of the US, and variation in the respective indicators that contribute to multidimensional poverty across the life cycle.
The book closes with two chapters. The first relays the findings of counterfactual exercises where certain deprivations are assumed to have been eliminated.
The final chapter summarizes the work, draws inferences and arrives at conclusions, and discusses the corresponding public policy implications.
Information
Format:Hardback
Pages:333 pages, 23 Illustrations, black and white; XIX, 333 p. 23 illus.
Publisher:Springer Nature Switzerland AG
Publication Date:13/12/2020
Category:
ISBN:9783030459154