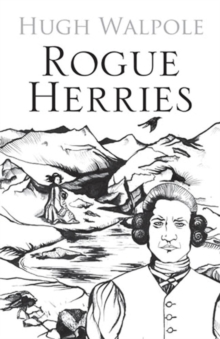 Description
Described on its first publication by John Buchan as the finest English novel since Jude the Obscure, Rogue Herries tells the story of the larger than life Francis Herries who uproots his family from Yorkshire and brings them to live in Borrowdale where their life is as dramatic as the landscape surrounding them.
Proud, violent and impetuous he despises his first wife, sells his mistress at a county fair and forms a great love for the teenage gypsy Mirabell Starr.
Alongside this turbulent story, runs that of his son David, with enemies of his own, and that of his gentle daughter Deborah with placid dreams that will not be realised in her father's house. 'As a feat both of knowledge and imagination the book is huge' Observer 'A superb work of fiction.
There is not one tired listless page' J.B. Priestly The Graphic
Information
Format: Paperback
Pages: 768 pages
Publisher: Frances Lincoln Publishers Ltd
Publication Date: 09/10/2008
Category: Classic fiction (pre c 1945)
ISBN: 9780711228894
Free Home Delivery
on all orders
Pick up orders
from local bookshops
Reviews
Showing 1 - 1 of 1 reviews.
Review by edwinbcn
16/06/2015
Rogue Herries, the first volume of a four-volume chronicle, describing a family saga from the early 18th till the early 20th century, is a novel painted on a large canvas. The main character of volume one is Francis Herris, nicknamed "Rogue Herries" because of his capricious and cruel nature. He is not as dark as Heathcliff, but at least as wild. The book starts with Herries and his family moving to the rugged landscape of the Lake District, where they move into a house in Borrowdale. The household consist of Francis Herries, his first wife Margaret, his two children, David and Deborah, and his house-keeper and mistress Alice Press, and valet Benjamin. Bringing The Mayor of Casterbridge by Thomas Hardy to mind, Herries sells Alice at a fair, after she has insulted his wife Margaret. But despite his rugged nature, Francis has a kind heart. This, however, rarely shows, and because of his wild behaviour Herries is misunderstood and feared by the villagers. For example, one day he witnesses a witch trial. He retrieves the body of the old village woman and buries her on his estate, which convinces the villagers that Herries has a pact with the devil, or is a devil himself. However, on another day he gives his cape to a beggar woman, and an amulet to her child on the road. This chance meeting and act of kindness determines the whole further development of the story and shapes Herries destiny.Years later, he sees the mother and her daughter again at a Christmas party in a barn. The daughter has grown up, and Herries is struck by her flaming red hair. However, they disappear in the wink of an eye. The next time he sees her, another few years later, is during the Jacobite rising of 1745. In a tavern, Herries observes her in the company of her lover. Incidentally, Herries finds himself in the battle side-bu-side with Mirabell's lover and witnesses his death. Francis Herries has by now realized that he is in love with this young girl, who is at least 30 years younger than he is. After the skirmishes are over, he roams the countryside to look for Mirabell, and eventually finds her in a very decrepit state living in a cave. He proposes to her, but she rejects him. He then pledges to wait for her until she comes to him.Many years later, she turns up on his door step, and they marry. However, Mirabell cannot bring herself to say she loves Herries, and this leads to a growing tension, with a climax of Mirabell fleeing from Herries. For years, he keeps looking for her, all over the country, until one day he finds her again, by chance. She is an actress in a traveling troupe. She breaks her promise to meet him after the performance. Yet years later, Mirabell returns to him, and by now, out of her own volition, says she has come to love Herries, just as Francis had always hoped it would be. He had to wait all his life for it.Along the main story, David Herries grows up, meets his wife Sarah, whom he abducts from the home of her uncle, and marries. He sets op in a modern estate not far from Herries. Deborah, falling short of becoming an old spinster, eventually marries a parson.The weakest point of the novel seemed the opening chapter, but soon after that it developed into a very gripping, fascinating story. There are beautiful, detailed descriptions of the natural scene in the Lake District, the old life-style of village life in Olde England, and exquisite descriptions of detail, light etc.Along the main story, a large number of side characters are introduced, family members of Herries who play a role in this and following volumes. Some other characters have familiar sounding names for people with some knowledge of British history, e.g. Peel, but only vague suggestions are made to the role of these characters in, supposedly, subsequent volumes.Hugh Walpole is a now largely forgotten English novelist, born in Auckland, New Zealand, who was a best-selling author during the first three decades of the twentieth century. The Herries chronicle in four volumes was reissued by the London publisher Frances Lincoln in 2008. His work certainly deserves wider readership.