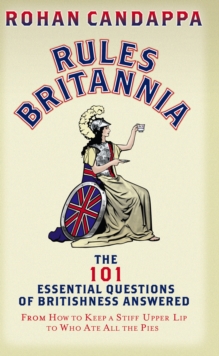 Description
What exactly does it mean to be British? Forget the official Citizenship Test, what do newcomers really need to understand to be part of this Great Nation?
Does it involve wearing plastic Union Jack bowler hats?
Perhaps sinking a tankard of ale? In these confused multicultural times, it's difficult to know...Well, fear not, because "Rules Britannia" is here to answer the 101 Essential Questions of Britishness - from the straightforward ('What is the point of the Boat Race?') to the historical ('Why couldn't the Daleks conquer the universe?'); the metaphysical ('Who is the "one" who has been barred from "All Bar One"?') to the totally unfathomable ('Elizabeth Hurley.
Explain.'). Within the wisdom-packed pages of this seminal tome, you'll also discover how Tim Henman can be both a hero and a villain, why a stiff upper-lip is treated as a source of pride rather than a facial condition, and why custard and gravy - the two key lubricants of a frankly limited cuisine - are locked in a yin-and-yang like struggle for dominance which neither can ever win.
Written with an absurd, off-beat sense of humour, bestselling author Rohan Candappa both sends up and celebrates our Sceptered Isle. And, after all, what could be more British than an absurd, off-beat sense of humour?
Information
Format: Hardback
Pages: 288 pages
Publisher: Ebury Publishing
Publication Date: 01/10/2007
Category: Humour
ISBN: 9780091922955
Free Home Delivery
on all orders
Pick up orders
from local bookshops
Reviews
Showing 1 - 1 of 1 reviews.
Review by redfiona
16/06/2015
I need you to imagine that you are at a party of some sort. You are stuck next to someone who goes on and on, thinking he is being amusing, witty and ingenious. It's only out of politeness to your host that you don't get up and leave.Now imagine that person writing a book.It's as good a description as any I can manage of the problems with the book. It's uneven in tone and not even half as funny, or witty, as it thinks it is.It also commits the cardinal sin of naming a better book with the same theme, the wonderful How To Be An Alien by George Mikes, which does what this book does but much better.The book is also riddled with errors and typos, particularly the spelling of some peoples's names and the re-locating of Alberta in the US.Not recommended.