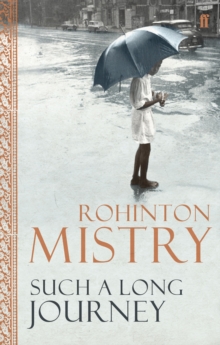 Such a Long Journey
Paperback
Description
Such a Long Journey is set in (what was then) Bombay against the backdrop of war in the Indian subcontinent and the birth of Bangladesh, telling the story of the peculiar way in which the conflict impinges on the lives of Gustad Noble, an ordinary man, and his family.It was the brilliant first novel by one of the most remarkable writers to have emerged from the Indian literary tradition in many years.
It was shortlisted for the 1991 Booker Prize, and won the 1992 Commonwealth Writers Prize.
Information
Format: Paperback
Pages: 352 pages
Publisher: Faber & Faber
Publication Date: 19/10/2006
ISBN: 9780571230570
Other Formats
Paperback from £7.69
EPUB from £6.39
Free Home Delivery
on all orders
Pick up orders
from local bookshops
Reviews
Showing 1 - 3 of 3 reviews.
Review by mtranter
16/06/2015
Gustav Noble - problems with his son, his friend dies, daughter sick, implication of friend in a secret plot. Insight into India's history. Impact of corruption on common people.
Review by thejohnsmith
16/06/2015
The story of a family in 1970's India - a mother and father with their three children, their neighbours, their work, their hopes and beliefs, their friendships and losses and the trials of life in general. The novel provides insight to their world and, I found, engendered a feeling of empathy for them - especially for Gustad the father. Its a good read.
Review by Eyejaybee
16/06/2015
Another beautiful novel from Rohinton Mistry."Such a Long Journey" does not quite match the sheer scale and awesome majesty of his subsequent novel "A Fine Balance", but that is the only even vaguely negative comment that I can bring myself to offer about it.The main protagonist is Gustad Noble, a devout Parsi living in early 1970s Bombay (long before the West had learned to call it Mumbai) with his wife Dilnavaz, his two sons Sohrab and Darius, and his nine year old daughter Roshan. Gustad work as a senior clerk in a large bank where he is respected for his piety and application. As the novel opens Gustad is delighted to learn that Sohrab has earned a place at the prestigious Indian Institute of Technology (IIT), and he and his wife almost literally can't stop talking about it, blissfully telling all of their friends and neighbours. Meanwhile Gustad receives a letter from Major Bilimoria, until recently a neighbour and very close friend, who had suddenly moved away to live in Dehli. This letter asks Gustad for a favour. Gustad, initially angry that his friend could leave without a word and then, out of the blue, ask him to undertake strange errands on his behalf. After some deliberation Gustad decides to help, and complies with the Major's requests. At this point Gustad's hitherto ordered and fairly comfortable life starts to fall apart. Sohrab, grappling with customary teenage angst, becomes annoyed with all of the fuss and starts to argue, interminably, and increasingly bitterly with Gustad. This culminates with him foreswearing his place at ITT and then moving out of the family home, much to his parents' distress (though Gustad is too stubborn to admit this, even to himself).Even more distressingly, Roshan falls prey to a mysterious illness, leading Gustad to try a variety of medical treatments while Dilnavaz resorts to more mystical remedies.The novel is set in the early 1970s against the backdrop of Mrs Indira Gandhi's premiership as India inches towards war with Pakistan. Bombay is in a constant state of unrest, with police brutality, rampant political corruption and religious tensions evident all around. Mistry weaves a vivid tapestry, merging numerous threads to deliver a pellucid account of how all these worries combine to beset a good man, and how he battles to overcome them.Gustad is a heroic figure - he has moments of doubt and weakness, but he remains true to his family and friends, and struggles always to do the right thing. Despite the multiplicity of plots and sub-plots, Mistry never loses track of them, and never relaxes his control. In addition to a marvellous plot peopled by colourful and extremely credible characters, Mistry gives a fascinating insight into this period of Indian history. He also sprinkles the book with scenes of complete humour that enliven, but never compromise the novel.Read it!