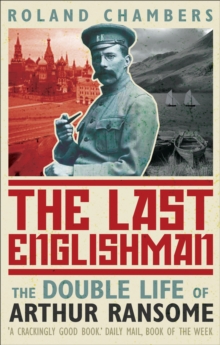 The Last Englishman : The Double Life of Arthur Ransome
Paperback
Description
Arthur Ransome was, from 1930 to the early 1960s, what J.K.
Rowling is today: author of a series of children's books which shaped the imagination of a generation.
Rooted in the heyday of the British Empire, Swallows and Amazons and its sequels described a nostalgic Utopia.
Yet before that, Arthur Ransome was famous for different reasons.
Between 1917 and 1924, as Russian correspondent for the Daily News and Manchester Guardian, he was an uncritical apologist for the Bolshevik regime, with unique access to the revolutionary leaders.
As the Red Army engaged with an Allied invasion of Russia, Ransome was conducting a love affair with Evgenia Shelepina, private secretary to Leon Trotsky, then Soviet Commissar for War. As the intimate friend of Karl Radek, the Bolshevik Chief of Propaganda, he denied the Red Terror and compared Lenin to Oliver Cromwell.
No English journalist was considered more controversial, or more damaging to British security.
At Whitehall, he was accused of being the paid agent of a hostile power and only narrowly escaped prosecution for treason. This is a fascinating, often chilling revision of an English icon through the most formative decade of the twentieth century.
Information
Format: Paperback
Pages: 416 pages
Publisher: Faber & Faber
Publication Date: 01/05/2010
Category: Biography: literary
ISBN: 9780571222629
Free Home Delivery
on all orders
Pick up orders
from local bookshops
Reviews
Showing 1 - 2 of 2 reviews.
Review by Steve38
16/06/2015
A workmanlike biography of Arthur Ransome focusing on his time as a journalist in Russia at the time of the revolution. It produces a clear but strangely distant picture of Ransome. Lots of detail but somehow it doesn't come to life. Fascinating that Ransome had so much access to key figures in the revolution and that he remained largely apolitical. Understandable that he became a Russophile and also that he later tired of the country - it's a difficult place to like. One minor error I spotted - a British Foreign Office official, Rex Leeper, is identified as the future founder of the British Arts Council when in fact it was the British Council an entirely different organisation.
Review by tronella
16/06/2015
Like most people, I only really knew Arthur Ransome as the author of the Swallows & Amazons series. However, those books do not feature very prominently in this biography; they were written relatively late in the life of Ransome, who spent a long time working as a journalist in Russia during the First World War and the Russian Revolution. This isn't a period of history I know much about, so it was very interesting to read about it from the perspective of a single journalist (who was apparently very well-connected and ended up marrying Trotsky's secretary), but in places the book seemed to assume more knowledge of Russia's involvement in WWI than I actually have - although I suppose that's my own failing rather than the book's.