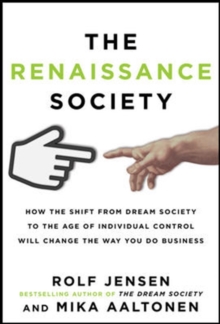 The Renaissance Society: How the Shift from Dream Society to the Age of Individual Control will Change the Way You Do Business
Hardback
Description
A BOLD NEW VISION FOR THE FUTURE OF BUSINESS, FROM THE BESTSELLING AUTHOR OF THE DREAM SOCIETYTHIS IS A BOOK ABOUT THE FUTURE. Your future. Our future. The future of companies,the marketplace, and society. According to futurists Rolf Jensen and Mika Aaltonen, we are currently "between dreams." We've managed to achieve many of our material goals, only to face ever-growing global competition in an ever-slowing economy.
Here's the good news: With the rise of social media and online resources, consumers are growing more powerful.
Individuals are exploring more options. And smartbusinesses are discovering more ways to appeal to this powerful new community. Welcome to The Renaissance Society. A world-class network of ordinary people who are changing the way companies and communities interact, they are the future--and they are us.
This forward- thinking book guides you through tomorrow's hottest trends to help you:Make an emotional connection to your customersCreate a value-driven company that engages your employeesAdjust your business strategy for a flatter, global marketplaceReward individual expression and spark a tribal spiritIdentify future trends to build long-term successJensen and Aaltonen's razor-sharp predictions offer a much-needed headsup--and a major head-start--for yourfuture success.
You'll explore revolutionary ways in which the individual's role will shift from consumer to creator--much like it did during the European Renaissance.
You'll find out why learning will become the world's largest industry and how services will become the twenty-first century's biggest growth market.
You'll see a powerful shift in the concept of ownership, the role of employees within a company, and the role of companies in society.
Most important, you'll be able to turn these fascinating predictions into real-world opportunities for decades to come. In The Renaissance Society, everybody matters. Each and every one of us has the power to reshape the future of our companies.
To reignite the passion of our communities. And to restore our faith in ourselves, our dreams, and our limitless potential for growth. PRAISE FOR THE RENAISSANCE SOCIETY"Jensen and Aaltonen have created a captivating portrait of tomorrow, one that inspires us to think of alternatives.
Decision makers in all fields will find that this book provides powerful reasons to question their grasp of the present." -- Riel Miller, Foresight Director, UNESCO"Mika and Rolf inspire our thinking and action with a book based on solid theory--and their vast experience working with leading international companies.
It is avaluable reference for leaders in both business and politics." -- DR.
STEFAN BERGHEIM, DIRECTOR,CENTER FOR SOCIETAL PROGRESS, GERMANY"The Renaissance Society is a fascinating and highly readable guide to the future and the possibilities it holds.
These are hard times for many people but thisbook helps to lift our sights and see the scope now emerging for a step change in human achievement." -- Matthew Taylor, Chief Executive, Royal Society of ArtsPRAISE FOR ROLF JENSEN'S THE DREAM SOCIETY"Riveting." -- Library Journal"Dramatic insights." -- Atlanta Business Chronicle"Rolf Jensen is pointing the way to the future." -- Harriet Rubin, author, The Princessa: Machiavelli for Women
Free Home Delivery
on all orders
Pick up orders
from local bookshops