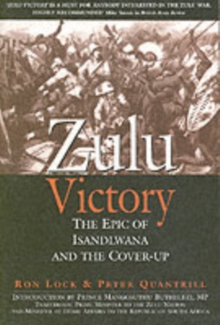 Zulu Victory : The Epic of Isandlwana and the Cover-up
Paperback
Description
Introduction by Prince Mangosuthu Buthelezi, MP, Traditional Prime Minister to the Zulu Nation Acclaimed analysis of the most famous Anglo-Zulu War battle 'Penetrating, valuable and interesting' - Military Heritage (USA) 'Zulu Victory is a must for anybody interested in the Zulu War' - British Army Review The Battle of Isandlwhana was one of the worst defeats ever to befall the British Army.
At noon on 22 January 1879 a British camp, garrisoned by over 1,700 troops, was attacked and overwhelmed by 20,000 Zulu warriors.
The defeat of the British, armed with the most modern weaponry, caused outrage throughout Queen Victoria's England.
The obvious culprit was Lieutenant General Lord Chelmsford, the defeated commander.
Appearing to respond to the outcry, he ordered a court of inquiry.
But instead there followed a carefully conducted cover-up in which he found a scapegoat among the dead - notably, in one Colonel Anthony Durnford.
The popular perception of the Anglo-Zulu War is that of a conflict between British redcoats and Zulu warriors. It is seldom realised that over 60 per cent of Chelmsford's army was composed of black auxiliaries, and that the cavalry mostly comprised colonial settlers.
Zulu Victory traces the history of the Zulu kingdom and its British neighbour, the Colony of Natal.
It also details the composition of both armies, from individual Zulu regiments to the tribesmen of the Natal Native Horse who fought with the British.
In this acclaimed book, using material ranging from the Royal Windsor Archives to oral history passed down to the present Zulu inhabitants of Isandlwhana, the authors shed new light on this notorious battle in all its bravery and horror, and the scandal that followed. Ron Lock, author of Blood on the Painted Mountain and the soon-to-be published Rorke's Drift: The True Story and co-author Peter Quantrill spent over three years researching and travelling in the footsteps of both armies.
They visited the battlefield and surrounding area and covered hundreds of square miles of this famous Zulu battleground.
Information
Format: Paperback
Pages: 304 pages, Ill.32col.ill.M.
Publisher: Greenhill Books
Publication Date: 02/02/2005
Category: African history
ISBN: 9781853676451
Free Home Delivery
on all orders
Pick up orders
from local bookshops