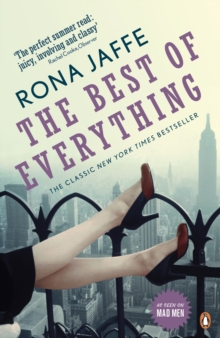 The Best of Everything
Paperback
Description
Rona Jaffe's frank, scandalous and thrilling 1958 novel, The Best of Everything follows a group of young women as they negotiate office romances, workplace politics, broken engagements, tiny apartments, lecherous bosses, heartbreak and lasting friendship, published in Penguin Modern Classics.New York, 1952: Four young women have come to the city: to find love, to build their careers and to savour the indefinable optimism of the times.
Caroline is the college graduate, determined to escape the typing pool and become an editor.
April is the beautiful country girl with a penchant for disastrous romances.
Aspiring actress Gregg is tangled in a dangerous love affair with a playwright; and divorcee Barbara writes about lipsticks by day and cares alone for her daughter by night.
Famously bedtime reading for Mad Men's Don Draper, The Best of Everything portrays the lives and passions of these ambitious young women with intelligence, affection, and prose as sharp as a paper cut.Rona Jaffe (1931-2005) was born in Brooklyn, New York, and grew up in the affluent Upper East Side of Manhattan.
Jaffe wrote her first book, The Best of Everything, while working as an associate editor at Fawcett Publications in the 1950s.
Published in 1958, it was later made into a movie, starring Joan Crawford.
During the 1960s she wrote cultural pieces for Cosmopolitan magazine.
Jaffe wrote sixteen novels during her career, including the controversial Mazes and Monsters (1981), adapted into a film starring Tom Hanks.If you enjoyed The Best of Everything, you might like John Dos Passos' Manhattan Transfer, also available in Penguin Modern Classics.'It harks back to a saner time when choosing progress and modernity was as straightforward as ordering dinner - "Two Scotches with water on the side, and two steaks"' Julie Burchill, author of Ambition'Decades before Sex and the City, Jaffe recorded the minutiae of women's lives and broke powerful taboos'Joan Smith, Independent
Information
Format: Paperback
Pages: 512 pages
Publisher: Penguin Books Ltd
Publication Date: 20/11/2010
ISBN: 9780141196312
Free Home Delivery
on all orders
Pick up orders
from local bookshops
Reviews
Showing 1 - 2 of 2 reviews.
Review by elkiedee
16/06/2015
"Fiction places people where they belong in society. There is no such thing he said as a dated novel. The novel set in a particular time gives a picture of that time with all the details of life as it was lived then." (Elizabeth Jolley)The Best of Everything is the story of four young women living and working in New York City - their jobs, their living conditions and their love lives. It was first published in 1958, and its subject matter and form have both been used in many popular novels aimed at a female audience since then. Can Rona Jaffe be described as the mother of modern chicklit? Yes, I think she can. Is this book worth a read? I thought so, both because it is quite enjoyable and for its depiction of the time when it was written and set.Caroline, April, Gregg and Barbara are all in their early 20s, working as secretaries for Fabian, publisher of commercial fiction and magazines. Caroline has a degree, Barbara's education has been interrupted by early marriage, motherhood and divorce, and the other two have theatrical aspirations.Jaffe dissects the ins and outs of office life with detailed observations about how things work, an interest in how her characters interact and flashes of sharp wit. There is a dragon boss, a woman who will do nothing to help other women in the workplace, and a lecherous creep who recognises Caroline's ability and promotes her to a role as reader and later a junior editor even though she rejects his sexual advances in no uncertain terms.I found the lives of the characters outside work a lot less satisfying. This was an era when women were judged by their success in getting married (and preferably hanging on to the husband). I thought the way in which Gregg and April totally demeaned themselves in front of the men they had relationships with was probably realistic but found it all incredibly irritating. Caroline and Barbara were less pathetic, but at this time women who weren't married by the age of 25 would have been seen as failures, no matter what they were doing at work. Jaffe writes openly about women having sex outside of marriage including extra-marital affairs - her characters are not presented as immoral although sometimes they are obviously deluded. At work and in their love lives, these women's stories showed the need for the women's liberation movement of the 1960s, and the effect that wave of feminism has had on women's lives even for women who don't consider themselves feminist.My favourite of the 4 characters was Caroline, who is bright and opinionated, and although she wants love as much as any of her colleagues and friends, is not prepared to settle for any old unsatisfactory compromise.This Penguin edition of the novel includes an introduction written by the author for a US reprint in 2005 (she died a few months later) in which she described how she came to write the book. She worked in publishing and a man talked about a 1940 bestseller by a man about women, and wanting to write something as good, or at least, as successful. Jaffe read the book mentioned and felt that it was not at all a realistic portrait of women's lives, and that she could do better. She confidently proclaimed that she could write a novel herself, and started to do so. Interestingly, she interviewed lots of women about their lives and views on things and drew on this in her novel - how many modern chicklit authors can claim they do so much research into what makes their heroines tick? The inclusion of this introduction was a great touch in the presentation of the novel.I found this an engaging and memorable read and a valuable period piece, and have found myself looking for some of Rona Jaffe's 15 other novels. Recommended. I received a free copy of this book through the Amazon Vine program.
Review by Yarrow
16/06/2015
I was really enjoying this book, all the characters, the interweaving plots and the debate about the conflict of marriage and career, and then I got to the end. Now I can't think about the book without the crushing sense of disappointment hitting me when I think about my favourite character just seeming to give up. It's a capricious way of judging a book I know, but I can't help it.
Also in the Penguin Modern Classics series | View all