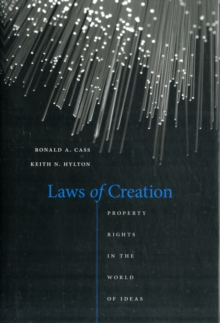 Laws of Creation : Property Rights in the World of Ideas
Hardback
Description
While innovative ideas and creative works increasingly drive economic success, the historic approach to encouraging innovation and creativity by granting property rights has come under attack by a growing number of legal theorists and technologists.
In Laws of Creation, Ronald Cass and Keith Hylton take on these critics with a vigorous defense of intellectual property law.
The authors look closely at the IP doctrines that have been developed over many years in patent, copyright, trademark, and trade secret law.
In each area, legislatures and courts have weighed the benefits that come from preserving incentives to innovate against the costs of granting innovators a degree of control over specific markets.
Over time, the authors show, a set of rules has emerged that supports wealth-creating innovation while generally avoiding overly expansive, growth-retarding licensing regimes. These rules are now under pressure from detractors who claim that changing technology undermines the case for intellectual property rights.
But Cass and Hylton explain how technological advances only strengthen that case.
In their view, the easier it becomes to copy innovations, the harder to detect copies and to stop copying, the greater the disincentive to invest time and money in inventions and creative works.
The authors argue convincingly that intellectual property laws help create a society that is wealthier and inspires more innovation than those of alternative legal systems.
Ignoring the social value of intellectual property rights and making what others create and nurture "free" would be a costly mistake indeed.
Information
Format: Hardback
Pages: 288 pages, 1 graph, 1 table
Publisher: Harvard University Press
Publication Date: 04/01/2013
Category: Legal history
ISBN: 9780674066458
Free Home Delivery
on all orders
Pick up orders
from local bookshops
Also by Ronald A. Cass