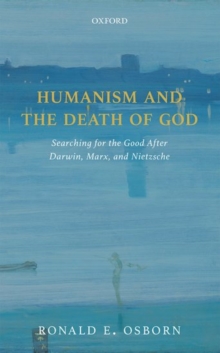 Humanism and the Death of God : Searching for the Good After Darwin, Marx, and Nietzsche
Hardback
Description
Humanism and the Death of God is a critical exploration of secular humanism and its discontents.
Through close readings of three exemplary nineteenth-century philosophical naturalists or materialists, who perhaps more than anyone set the stage for our contemporary quandaries when it comes to questions of human nature and moral obligation, Ronald E.
Osborn argues that "the death of God" ultimately tends toward the death of liberal understandings of the humanas well.
Any fully persuasive defense of humanistic values-including the core humanistic concepts of inviolable dignity, rights, and equality attaching to each individual-requires an essentially religious vision of personhood.
Osborn shows such a vision is found in an especially dramatic and historicallyconsequential way in the scandalous particularity of the Christian narrative of God becoming a human.
He does not attempt to provide logical proofs for the central claims of Christian humanism along the lines some philosophers might demand.
Instead, this study demonstrates how philosophical naturalism or materialism, and secular humanisms and anti-humanisms, might be persuasively read from the perspective of a classically orthodox Christian faith.
Information
Format: Hardback
Pages: 266 pages
Publisher: Oxford University Press
Publication Date: 14/07/2017
Category: History of Western philosophy
ISBN: 9780198792482