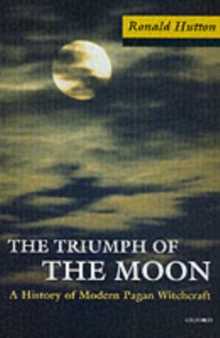 The Triumph of the Moon : A History of Modern Pagan Witchcraft
Paperback
Description
Ronald Hutton is known for his colourful and provocative writings on original subjects.
This work is no exception: for the first full-scale scholarly study of the only religion England has ever given the world; that of modern pagan witchcraft, which has now spread from English shores across four continents.
Hutton examines the nature of that religion and its development, and offers a microhistory of attitudes to paganism, witchcraft, and magic in British society since 1800.
Its pages reveal village cunning folk, Victorian ritual magicians, classicists and archaeologists, leaders of woodcraft and scouting movements, Freemasons, and members of rural secret societies.
We also find some of the leading of figures of English literature, from the Romantic poets to W.B.
Yeats, D.H. Lawrence, and Robert Graves, as well as the main personalities who have represented pagan witchcraft to the world since 1950.
Densely researched, Triumph of the Moon presents an authoritative insight into a hitherto little-known aspect of modern social history.
Information
Format: Paperback
Pages: 512 pages
Publisher: Oxford University Press
Publication Date: 15/02/2001
Category: Cultural studies
ISBN: 9780192854490
Other Formats
Hardback from £88.00
EPUB from £8.44
Free Home Delivery
on all orders
Pick up orders
from local bookshops
Reviews
Showing 1 - 3 of 3 reviews.
Review by EvaElisabeth
16/06/2015
A good book though somewhat criticised in traditional pagan circles as the author seems to have made his conclusions and then selected the evidence he was going to include to support that evidence. Nevertheless a good adition to any pagan library.
Review by gercmbyrne
16/06/2015
The most important book ever written on neo-paganism and the new occult traditions. Hutton is an outstanding historian, and the material is presented in such a way that the reader is given all possible theories, and then the most likely based on the evidence. Myths, modern and ancient are debunked and nowhere has this had a more profound effect than on Wicca.The inventor of Wicca (Gerald Gardner) is placed in his correct context - not of a mage presenting the secrets of pagan witchcraft to the world but a showman inventing a pseudo-history for his new occult movement. Hutton treats neo-paganism and Wicca with respect and tolerance while cleaning away the lies and mis-information. He also address the origins of the neopagan movement - a fascinating tale of gentlemen playing at "druids", enlightemment poets and Late Victorian Spiritualism.Anyone interested in the occult, and in witchcraft should read this book and anyone interested in Paganism/Neo-paganism should definately read it. One can only emerge better educated and more aware of the reality rather than the mythology, of neo-paganism
Review by earthlistener
16/06/2015
A really informative and intriguing book which was very, very well researched. I learned a lot about the development and origin of modern paganism and Wicca, not so much on where it came from as much as what happened afterward. The book tells over the history of how various aspects of paganism is prefect rived and how it has changed, and then over actual events of how it came to be. A really detailed book. I enjoyed reading it greatly.