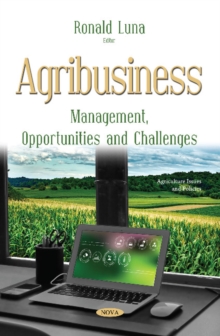 Agribusiness : Management, Opportunities and Challenges
Paperback / softback
Description
The issue of how to assess the sustainability of governance structures is one of the most topical for researchers, farmers, investors, administrators, policymakers, interest groups, and the public at large.
In the opening chapter the authors suggest a practical and holistic approach to assessing the sustainability of governing structures in the Bulgarian agri-business sector.
Next, the authors propose that nanotechnology has the potential to significantly impact all sectors of agribusiness in the next decade, and may be used to enhance the possibility of re-developing conventional agribusiness resources.
The objective of the closing paper is to assess and measure the current growth on the agribusiness of coffee in Mexico, its trends and challenges, the technology being used, and the constraints and goals towards the sustainability of the value chain.
Information
Format: Paperback / softback
Pages: 149 pages
Publisher: Nova Science Publishers Inc
Publication Date: 30/09/2018
Category: Business & management
ISBN: 9781536144130