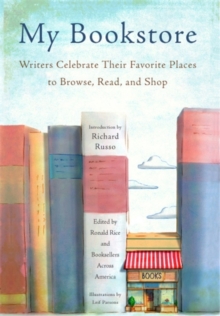 My Bookstore : Writers Celebrate Their Favorite Places to Browse, Read, and Shop
Hardback
Description
In this enthusiastic, heartfelt, and sometimes humorous ode to bookshops and booksellers, 84 known authors pay tribute to the brick-and-mortar stores they love and often call their second homes.In My Bookstore our greatest authors write about the pleasure, guidance, and support that their favorite bookstores and booksellers have given them over the years.
The relationship between a writer and his or her local store and staff can last for years or even decades.
Often it's the author's local store that supported him during the early days of his career, that continues to introduce and hand-sell her work to new readers, and that serves as the anchor for the community in which he lives and works.My Bookstore collects the essays, stories, odes and words of gratitude and praise for stores across the country in 81 pieces written by our most beloved authors.
It's a joyful, industry-wide celebration of our bricks-and-mortar stores and a clarion call to readers everywhere at a time when the value and importance of these stores should be shouted from the rooftops.Perfectly charming line drawings by Leif Parsons illustrate each storefront and other distinguishing features of the shops.Contributing Authors and Bookstores Include:Fannie Flagg?Page & Palette, Fairhope, ALRick Bragg?Alabama Booksmith, Homewood, ALJohn Grisham?That Bookstore in Blytheville, Blytheville, ARRon Carlson?Changing Hands Bookstore, Tempe, AZAnn Packer?Capitola Book Caf?, Capitola, CAIsabel Allende?Book Passage, Corte Madera, CAMahbod Seraji?Kepler?s Books, Menlo Park, CALisa See?Vroman?s Bookstore, Pasadena, CAMeg Waite Clayton?Books Inc., San Francisco, CADaniel Handler and Lisa Brown?The Booksmith, San Francisco, CADave Eggers?Green Apple Books, San Francisco, CAPico Iyer?Chaucer?s Books, Santa Barbara, CALaurie R.
King?Bookshop, Santa Cruz, CAScott Lasser?Explore Booksellers, Aspen, COStephen White?Tattered Cover Book Store, Devner, COKate Niles?Maria?s Bookshop, Durango, COAnn Haywood Leal?Bank Square Books, Mystic, CTFlorence and Wendell Minor?The Hickory Stick Bookshop, Washington Depot, CTRick Atkinson?Politics and Prose Bookstore, Washington, DCLes Standiford?Books & Books, Coral Gables, FLRobert Macomber?The Muse Book Shop, Deland, FLDavid Fulmer?Eagle Eye Book Shop, Decatur, GAAbraham Verghese?Prairie Lights, Iowa City, IACharlie Brandt?Chapter One Bookstore, Ketchum, IDLuis Alberto Urrea?Anderson?s Bookshops, Naperville, ILMike Leonard?The Book Stall Chestnut Court, Winnetka, ILAlbert Goldbarth?Watermark Books, Wichita, KSWendell Berry?Carmichael?s Bookstore, Louisville, KYEdith Pearlman?Brookline Booksmith, Brookline, MAMameve Medwed?Porter Square Books, Cambridge, MAHenry Louis Gates, Jr.?Harvard Book Store, Cambridge, MASimon Winchester?The Bookloft, Great Barrington, MANancy Thayer?Mitchell?s Book Corner, Nantucket, MAElin Hilderbrand?Nantucket Bookworks, Nantucket, MAJeanne Birdsall?Broadside Bookshop, Northampton, MAMartha Ackmann?Odyssey Bookshop, South Hadley, MAWard Just?Bunch of Grapes Bookstore, Vineyard Haven, MARon Currie, Jr.?Longfellow Books, Portland, MENancy Shaw?Nicola?s Books, Ann Arbor, MIKatrina Kittle?Saturn Booksellers, Gaylord, MIAnn Patchett?Mclean & Eakin Booksellers, Petotskey, MIKathleen Finneran?Left Bank Books, St.Louis, MOBarry Moser?Lemuria Books, Jackson, MSJill McCorkle?Flyleaf Books, Chapel Hill, NCCarrie Ryan?Park Road Books, Charlotte NCLaurent Dubois?The Regulator Bookshop, Durham, NCLee Smith?Purple Crow Books, Hillsborough, NCAngela Davis-Gardner?Quail Ridge Books & Music, Raleigh, NCRon Rash?City Lights Bookstore, Sylva, NC
Information
Format: Hardback
Pages: 392 pages
Publisher: Black Dog & Leventhal Publishers Inc
Publication Date: 20/12/2011
Category: Biography: literary
ISBN: 9781579129101
Other Formats
Paperback / softback from £12.99
Free Home Delivery
on all orders
Pick up orders
from local bookshops