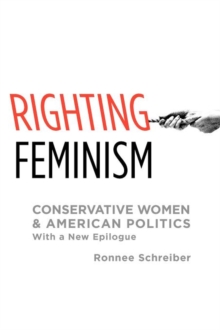 Righting Feminism : Conservative Women and American Politics, with a new epilogue
Paperback / softback
Description
When we think of women's activism in America, liberal figures such as Gloria Steinem and Betty Friedan invariably come to mind.
But women's interests are not synonymous with organizations like NOW anymore.
As Ronnee Schreiber shows, the conservative ascendancy that began in the Reagan era has been accompanied by the emergence of a broad-based conservative women's movement.
Righting Feminism shows that one of the key-albeit overlooked-developments in political activism since the 1980s has been the emergence of conservative women's organizations.
It focuses on Concerned Women for America and the Independent Women's Forum to reveal how they are using feminist rhetoric for conservative ends: outlawing abortion, restricting pornography, and bolstering the traditional family.
But ironically, these organizations face a paradox: to combat the legacy offeminism-particularly its appeal to the majority of American women-they must use the rhetoric of women's empowerment.
Indeed, Schreiber amply illustrates how conservative activists are often the beneficiaries of the very feminist politics they oppose.
Yet just as importantly, she demolishes two widely believedtruisms: that conservatism holds no appeal to women and that modern conservatism is hostile to the very notion of women's activism. And, in this updated edition, Schreiber takes the story forward with an epilogue that considers the ways in which the politics of representation have changed for both conservative women and feminist activists in the wake of the political ascendency of figures including Sarah Palin and Michelle Bachmann.
Based on numerous interviews with colorful conservative activists and extensive analyses of organizational documents, Righting Feminism offers a new way of understanding the unlikely intersection of women's activism and conservative politics in America today.
Information
Format: Paperback / softback
Pages: 208 pages
Publisher: Oxford University Press Inc
Publication Date: 31/05/2012
Category: Feminism & feminist theory
ISBN: 9780199917020
Free Home Delivery
on all orders
Pick up orders
from local bookshops