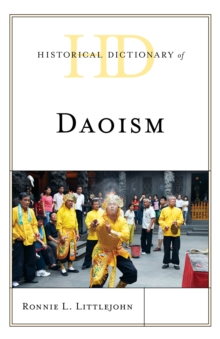 Historical Dictionary of Daoism
Hardback
Description
Daoism is the oldest indigenous philosophic-spiritual tradition of China and one of the most ancient of the world's spiritual structures. The name "Daoism" comes from the term dao that is often used for a "way" or a "road" through the field or woods to one's village. It is also used of the "way" to do something, such as the way a master craftsman carves a candlestick, makes a bell, or even butchers an ox. But dao is also used as a nominative in the history of Daoism. It is used for the energizing process that permeates and animates all of reality and moves it along simply as "the Dao." However, both text and practice in this tradition insist that dao itself cannot be described in words.
Dao is not God in the sense of Western philosophy or religion. Daoism has no supreme being, even if there is an extensive grammar about numinal self-conscious entities and powers for which the Chinese use the word "spirit" (shen). For example, the highest numinal powers of Daoism are variously called Taishang Laojun (the deified Laozi), the Celestial Worthy of Primordial Beginning (Yuanshi tianzun), the Jade Emperor (Yuhuang Shangdi) or the Perfected Warrior (Zhenwu).
But these are expressions of dao in specific shen, they are not identical with the Dao, except in the most unique case when Laozi, the putative founder of Daoism and author of its major work, Daodejing, is said to be one with the Dao. Historical Dictionary of Daoism contains a chronology, an introduction, appendixes and an extensive bibliography.
The dictionary section has over 400 cross-referenced entries on related to the Chinese belief and practice worldview known as Daoism including dozens of Daoist terms, names, and practices.
This book is an excellent resource for students, researchers, and anyone wanting to know more about Daoism.
Information
Format: Hardback
Pages: 310 pages, 3 Tables, unspecified
Publisher: Rowman & Littlefield
Publication Date: 29/11/2019
Category: Dictionaries
ISBN: 9781538122730