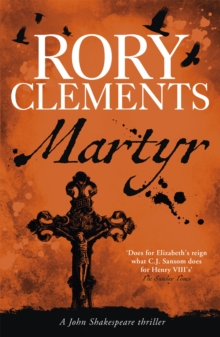 Martyr : John Shakespeare 1
Paperback
Description
For fans of CJ Sansom and SJ Parris, MARTYR is the first of Rory Clements' acclaimed and bestselling John Shakespeare series of Tudor spy thrillers. Clements, winner of the Ellis Peters Historical Fiction Award, 'does for Elizabeth's reign what CJ Sansom does for Henry VIII's' Sunday TimesEngland is close to war.
Within days the axe could fall on the neck of Mary Queen of Scots, and Spain is already gathering a battle fleet to avenge her.
Tensions in Elizabeth I's government are at breaking point.
At the eye of the storm is John Shakespeare, chief intelligencer in the secret service of Sir Francis Walsingham.
When an intercept reveals a plot to assassinate England's 'sea dragon', Francis Drake, Shakespeare is ordered to protect him.
With Drake on land fitting out his ships, he is frighteningly vulnerable.
If he dies, England will be open to invasion. In a London rife with rumour, Shakespeare must decide which leads to follow, which to ignore.
When a high-born young woman is found mutilated and murdered at an illicit printing house, it is political gunpowder - and he has no option but to investigate.But why is Shakespeare shadowed at every turn by the brutal Richard Topcliffe, the blood-drenched priest-hunter who claims intimacy with Queen Elizabeth herself?
What is Topcliffe's interest in a housemaid, whose baby has been stolen? And where do two fugitive Jesuit priests fit into the puzzle, one happy to die for God, the other to kill for Him?
From the splendour and intrigue of the royal court, to the sleek warships of Her Majesty's Navy and the teeming brothels of Southwark, Shakespeare soon learns that nothing is as it seems . . .
Information
Format: Paperback
Pages: 432 pages
Publisher: Hodder & Stoughton General Division
Publication Date: 01/01/2010
Category: Historical mysteries
ISBN: 9781848540781
Free Home Delivery
on all orders
Pick up orders
from local bookshops
Reviews
Showing 1 - 4 of 4 reviews.
Review by devenish
16/06/2015
England in the reign of Elizabeth I. The Queen is about to sign the death warrant for the execution of Mary Queen of Scots and her spy-master Sir Francis Walsingham is charged to discover and destroy a catholic assassin sent by Phillip of Spain to kill Sir Francis Drake.Walsingham's chief agent is John Shakespeare,elder brother to the playwright William. He is on the track of the murderer of Lady Blanche Howard,who has been slaughtered in a most terrible way. The strands of these two separate investigations eventually intertwine,but in a strange fashion.With the vicious Topcliffe,who reports directly to the Queen, we are presented with what must be one of the most evil characters in fiction.Rory Clements has written a wonderful evocation of this most colourful and dangerous age and as this is the first of a series I can only wait with strong anticipation for the next thrilling episode.C.J.Sansom should look over his shoulder and beware this new and exciting rival.
Review by john257hopper
16/06/2015
Quite an engaging murder mystery, though I don't rate this as highly as C J Sansom's gritty Tudor murder mysteries. I am no prude, but I thought Clements to be, in places, actually quite gratuitous in his depictions of cruelty and violence. Topcliffe is one of the most appalling fictional depictions of which I have read (though he was a real person). I didn't initially take to John Shakespeare (nor did I to Sansom's Matthew Shardlake at first) but he grew on me. Incidentally, John Shakespeare is a fictional brother of the playwright, who appears in a minor supporting role.
Review by bsquaredinoz
16/06/2015
Rory Clements has set this work of fiction against the backdrop of genuinely dark times for England. As the book opens it is 1587 and Queen Elizabeth is deciding whether or not to approve the execution of her treasonous cousin Mary, Queen of Scots while the Spanish armada is being assembled ready to invade the country. Clements has created a fictional older brother for playwright William Shakespeare as the hero of this novel. John Shakespeare is an investigator for Elizabeth's Principal Secretary Francis Walsingham and is kept very busy. He must try to establish who killed Lady Howard, a young cousin of the Queen's whose body was found in a burned out house and was defiled with what appear to be Catholic symbols. He must also find and stop the assassin who has been hired to kill Sir Francis Drake, the sea captain in whom is vested England's hope for defeating the Spanish. All the while Shakespeare is hindered in his efforts by having to fight Richard Topcliffe, known (for good reason if the details of the book are even vaguely accurate) as Elizabeth's principle torturer and whose particular interest was in capturing Catholic priests.<br/><br/>I'm not an expert on the Elizabethan period but the historical elements of this book certainly ring true which is enough for me to have thoroughly enjoyed it. Clements has used research, details (mostly of the ewwww-inducing kind) and just the right amount of period-specific language. In addition, fictional events and characters are interwoven with real ones with consummate skill and the result is a brilliant and far from romantic, depiction of a period full of violence, torture, religious persecution, war and the ever-present smell of excrement. As is the case with all the best historical fiction I was gripped with equal parts fascination and gratitude that I didn't have to live through the reality.<br/><br/>I'm not sure that making the protagonist a fictional older brother of William Shakespeare added much value to the book (William appears only briefly) but as it didn't detract either I'm open to seeing what he does with this aspect of the character in subsequent novels. Clements' characters, whether entirely fictional or his interpretations of real people, do come to life and they are another highlight of the novel. John Shakespeare is a mostly likable young man (though occasionally a bit soppy for me) who is intelligent and at least has doubts about the more extreme methods his Queen approves of for dealing with Catholics. And Topcliffe is the perfect nemesis, being entirely devoid of humanity but very clever and having the support of the Queen so feeling free to indulge in all manner of torture. There are some marvellous minor characters including some amusing prostitutes and Shakespeare's faithful, limping manservant who does a nice line in dry humour when he is tasked with guarding the irrepressible Sir Francis Drake.<br/><br/>On the crime fiction front I thought the book lacked a little oomph. The solving of the mystery of Lady Howard's death was really quite straight forward and the hunt for the assassin was more of the swashbuckling thrills variety of story than a crime solving one and it did seem to go round in circles at times. But in the end this didn't matter all that much as I was fascinated by the weaving of the fictional events into the historical backdrop and enjoyed the depiction of the interplay of politics and crime solving that I suspect doesn't change much no matter what historical period we're in. I would highly recommend the book to fans of historical fiction though you'll need a strong stomach as the descriptions of the torture that was routinely carried out during these times is described in pretty graphic detail.
Review by Ant.Harrison
16/06/2015
Really enjoyed Rory Clements's Martyr; an exciting take on the current 'investigator-goes-it-alone-in-Tudor England' craze. The hero of this story is William Shakespear's fictional brother (not too sure that this relationship was completely necessary, and it certainly wasn't key to the plot, but perhaps the author's going to make more of it in future novels), John, who as Walsingham's top agent, is tasked with protecting a belligerent Sir Francis Drake from a ruthless Spanish assassin. The characters were all believable, and I was gripped by the fast-moving plot involving the gruesome murder of one of the Queen's relatives, prostitution, double-dealing spies, torture, and a hired assassin. Of course, Shakespear has an arch nemesis, another spy called Topcliffe, who happens to have direct access to Queen Elizabeth, and is described as one of her 'favourites' (she seemed to have rather a lot of them!). Topcliffe's a good character, but his relationship with the Queen is not really explained and without this understanding, it's hard to accept his omnipotence. Still, that's a relative small quibble in an otherwise enjoyable story.<br /><br />The book was clearly well-researched, without being heavy going or losing its excitement. Some other reviewers have compared Clements unfavourably to CJ Sansom, but I think that's unfair. In my opinion, this book is as good as the first two Shardlake novels. If you like Shardlake, you'll enjoy Martyr. <br /><br/>© Koplowitz 2012
Also in the John Shakespeare series | View all