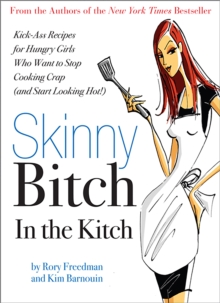 Skinny Bitch in the Kitch : Kick-ass Solutions for Hungry Girls Who Want to Stop Cooking Crap (and Start Looking Hot!)
Paperback
Description
Quit your bitching-they've heard you already! You read Skinny Bitch and it totally rocked your world.
Now you want to know, What can I cook that's good for me, but doesn't taste like crap?" Well, lucky for you, the Bitches are on the case.
Self-proclaimed pigs, Rory and Kim understand all too well: Life without lasagna isn't a life worth living chocolate cake is vital to our survival and no one can live without mac'n cheese-no one.
So can you keep to your SB standards and eat like a whale?
Shit yeah, bitches. To prove it, Rory and Kim came up with some kick-ass recipes for every craving there is: Bitchin' Breakfasts PMS (Pissy Mood Snacks) Sassy Soups and Stews Grown-up Appetizers Comfort Cookin' Hearty Ass Sandwiches Happy Endings (Desserts) And a ton more!
They are all so good (and easy to make) you're gonna freak out.
Seriously. What are you waiting for? Get your skinny ass in the kitchen!
Information
Format: Paperback
Pages: 192 pages, line art throughout
Publisher: Running Press,U.S.
Publication Date: 04/12/2007
Category: Diets & dieting
ISBN: 9780762431069
Free Home Delivery
on all orders
Pick up orders
from local bookshops
Reviews
Showing 1 - 5 of 5 reviews.
Review by dcoward
16/06/2015
Some very good vegetarian recipes.
Review by mdomsky
16/06/2015
A cookbook for hungry girls who don't mind going vegan in order to get healthy(and maybe lose some weight). I don't know if these recipes will actually help with weight loss if you already eat healthy, but the ones I've tried so far are pretty tasty. Plus, I love the irreverent, in-your-face approach to cooking and eating healthy.
Review by rockinvegan
16/06/2015
I think this book focuses a little too much on trying to recreate foods to taste like meat or dairy dishes rather than create new and delicious foods. However, the book is rather well done and I love her "bitchiness".
For a cookbook based on a diet plan, I'd expect a nutritional breakdown of some sort for the recipes. Also a lot of the recipes call for substitutes for non-vegan items (dairy, for example), with no workarounds. Why not a quesadilla made with a bean spread of some sort instead of substitute cheese? There's very little inventiveness and creativity in this cookbooks. Personally, I think I'll stick to Isa's books.
Review by __Lindsey__
16/06/2015
I know a lot of people hate this cookbook because of all the substitute products, but I enjoy vegan meat/dairy substitutes, and every recipe I've tried is SERIOUSLY DELICIOUS!! I've tried over half the recipes, and I plan to make every single one in here. These recipes will NOT help you lose weight though as there is a lot of fat in most of them. Also, they go overboard on the salt sometimes. However, if all you're going for is good taste and natural ingredients, and you're not a gourmet chef, this is a great book.<br/><br/>Some of my favorites - <br/>Macaroni and 4 Cheeses<br/>Dream Bars<br/>Crabby Cakes with Remoulade Sauce<br/>Herbed "Egg" Salad Scoops<br/>Spicy Mixed Nuts<br/>Veggie Enchiladas (includes a from-scratch enchilada sauce recipe - so, so delicious and tastes really authentic)<br/>"Meatloaf" with Mashed Potatoes and Gravy<br/>Hummus, Tempeh, and Cucumber Wrap<br/><br/>If you'd like some vegan weight loss recipes, try Dr. Barnard's Breaking the Food Seduction or anything by Dr. Fuhrman or Dr. McDougall instead.
Also by Rory Freedman