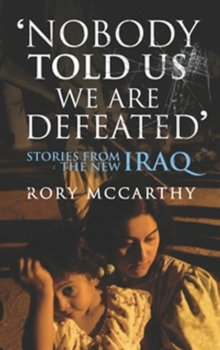 Nobody Told Us We Are Defeated : Stories from the new Iraq
Paperback
Description
In May 2003 journalist Rory McCarthy went to Iraq to cover what was claimed to be the triumphant rebuilding of the country after the American invasion.
Two years later he left a place teetering on the brink of civil war, whose inhabitants longed for the Americans to leave but feared what would happen if they did.
Throughout his stay, McCarthy was struck by how little the Iraqi point of view was represented in the media, drowned out by the message of the British and American occupying powers.
This book is an attempt to recify that. By telling the stories of some of the Iraqis that McCarthy came to know, it reveals, more subtly and interestingly than any political rhetoric, the fatal extent to which they were misunderstood.
From the survivor of one of Sadaam's mass graves to the insurgents of Najaf, McCarthy shows us men and women living the dilemmas of Iraq from day to day, and making crucial decisions about where they stand.
The result is a moving and important book that gives a remarkable overview of a nation in turmoil.
Information
Format: Paperback
Pages: 336 pages
Publisher: Vintage Publishing
Publication Date: 01/08/2006
Category: Middle Eastern history
ISBN: 9780701180560
Free Home Delivery
on all orders
Pick up orders
from local bookshops