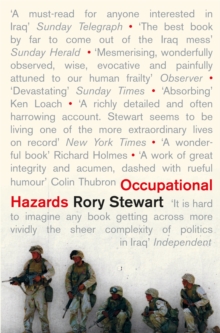 Occupational Hazards
Paperback
Description
By September 2003, six months after the US-led invasion of Iraq, the anarchy had begun.
Rory Stewart, a young Biritish diplomat, was appointed as the Coalition Provisional Authority's deputy governor of a province of 850,000 people in the southern marshland region.
There, he and his colleagues confronted gangsters, Iranian-linked politicians, tribal vendettas and a full Islamist insurgency.
Rory Stewart's inside account of the attempt to re-build a nation, the errors made, the misunderstandings and insumountable difficulties encountered, reveals an Iraq hidden from most foreign journalists and soldiers.
Stewart is an award-winning writer, gifted with extraordinary insight into the comedy, occasional heroism and moral risks of foreign occupation. 'Beautifully written, highly evocative . . . a joy to read' John Simpson 'A marvellous book . . . a devastating narrative' Simon Jenkins 'Absolutely absorbing' Ken Loach 'Strikes gut and brain at once' James Meek 'Wonderfully observed, wise, evocative' Observer
Information
Format: Paperback
Pages: 464 pages
Publisher: Pan Macmillan
Publication Date: 04/05/2007
ISBN: 9780330440509
Free Home Delivery
on all orders
Pick up orders
from local bookshops
Reviews
Showing 1 - 2 of 2 reviews.
Review by wandering_star
16/06/2015
"Occupational Hazards" is Rory Stewart's memoir of his time as deputy governor of two of Iraq's southern provinces. Like his previous book, "The Places In Between", it's a good read, thoughtful, well-written, and an insight into a place which very few other Westerners are likely to be. Unlike its predecessor, though, this isn't a travel book; but then it doesn't quite fit the mould of the Iraq debacle post-mortem, either. This is a book immersed in detail: what it was actually like trying to govern day-to-day. Apart from an epilogue, Stewart avoids analysis of the wider context, although this doesn't stop him building up a pretty clear picture of the problems. His story is often absurd or even farcical - early on, Stewart points out the contrast between his vast power (on paper) and scant authority to back that up, and he wrings a grim humour from the parallel-universe instructions he receives from head offices in Basra and Baghdad. Tellingly, the majority of the chapter epigrams are from either Machiavelli or Don Quixote.Stewart comes across as sensible, and reasonably alert to local culture and nuance - although he's clearly a thorn in the side of some of his colleagues. At one point he laments, "we were not allowed to return to our office [after a serious insurgent attack]. My superiors said that whatever my work had been, it wasn't worth getting killed for. This seemed a pretty depressing statement of how serious we were about the occupation". This brought me up short when I first read it - but it fitted with the overall picture of the lack of clear thinking about what the conflict aimed to achieve. The overwhelming impression is that the people who were setting the agenda believed that anything was possible, however limited the resources - from time and money to people and skills.In particular, the question that came out most strongly for me was that of security. Restoring security was the linchpin of everything the Coalition Provisional Authority was trying to achieve - so, expeditiously, they selected existing networks and groups who could act as a police force. But this ignored the fact that while in the developed world we implicitly accept the social contract involved (that the state is entitled to the monopoly of force because it also has responsibilities to use that force for the good of the people), there was nothing in ordinary Iraqis' experience to explain this - making the distinction between legitimate and illegitimate use of force much more arbitrary.Stewart does not discuss this directly - and indeed, in the main body of the book, says little about his feelings about the job he had been assigned. However, in his epilogue (which I think was added to the paperback version of the book), he argues clearly that only the Iraqi people can credibly tackle the problems which they are facing.
Review by furriebarry
16/06/2015
Rory Stewart takes on a various government roles in the provinces of Iraq during 2003 and 2004. The reading I have done on the occupation and the CPA have either been from the point of view of the military or very Baghdad centric. This is the view from the forntline of the occupation in South Iraq,. The attempt to crow bar Western ideals into Iraqi culture and it underlines the absolute futlity of 99% of the work attempted in that first year. How anyone could keep their patience when met with incompetence, misunderstandings, deceit and cowardice to the level seen here is beyond my understanding. Bureaucracy seems determined to make life tough for itself, the military are playing by their own rules but they won't share the rulebook, the bewildering number of factions seem more interested in hamstringing each other rather than moving forward. It is a tragicomic tale and while don't agree with all of RS's conclusions I do applaud his efforts and recommend this book to anyone puzzled as to how we made such a mess of the whole situation.