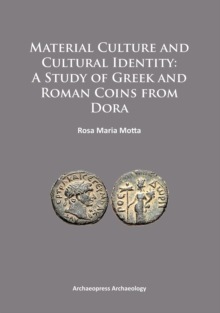 Material Culture and Cultural Identity: A Study of Greek and Roman Coins from Dora
Paperback / softback
Description
The ancient harbor town of Dor/Dora in modern Israel has a history that spanned from the Bronze Age until the Late Roman Era.
The story of its peoples can be assembled from a variety of historical and archaeological sources derived from the nearly thirty years of research at Tel Dor - the archaeological site of the ancient city.
Each primary source offers a certain kind of information with its own perspective.
In the attempt to understand the city during its Graeco-Roman years - a time when Dora reached its largest physical extent and gained enough importance to mint its own coins, numismatic sources provide key information.
With their politically, socio-culturally and territorially specific iconography, Dora's coins indeed reveal that the city was self-aware of itself as a continuous culture, beginning with its Phoenician origins and continuing into its Roman present.
Information
Format: Paperback / softback
Pages: 118 pages, Illustrated throughout in black and white
Publisher: Archaeopress
Publication Date: 20/03/2014
Category: Classical Greek & Roman archaeology
ISBN: 9781784910921