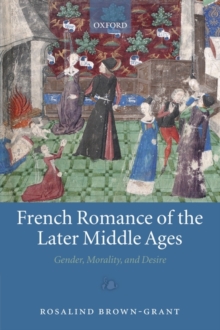 French Romance of the Later Middle Ages : Gender, Morality, and Desire
Hardback
Description
Whilst French romances of the twelfth and thirteenth centuries have long enjoyed a privileged place in the literary history of France, romances from the later middle ages have been largely neglected by modern scholars, despite their central role in the chivalric culture of the day.
In particular, although this genre has been seen as providing a forum within which ideas about masculine and feminine roles were debated and prescribed, little work has been done on thegender ideology of texts from the fourteenth and fifteenth centuries.
This study seeks to fill this gap in the scholarship by analysing how the views of gender found in earlier romances were reassessed and reshaped in the texts produced in the moralising intellectual environment of the later medievalperiod.
In order to explore these topics, this book discusses fifteen historico-realist prose romances written in the century from 1390, many of which were commissioned at the court of Burgundy.
It addresses key issues in recent studies of gender in medieval culture including the construction of chivalric masculinity, the representation of adolescent desire, and the social and sexual roles of husbands and wives.
In addition to offering close readings of these texts, it shows how the romances ofthe period were informed by ideas about gender which circulated in contemporary works such as manuals of chivalry, moral treatises, and marriage sermons.
It thus aims not only to provide the first in-depth study of this little-known area of French literary history, but also to question the criticalconsensus on the role of gender in medieval romance that has arisen from an exclusive focus on earlier works in the genre.
Information
Format: Hardback
Pages: 268 pages, frontispiece
Publisher: Oxford University Press
Publication Date: 13/11/2008
ISBN: 9780199554140
Free Home Delivery
on all orders
Pick up orders
from local bookshops