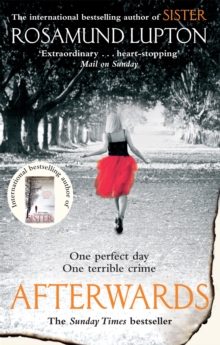 Description
Sunday Times Top-Ten BestsellerThere is a fire and they are in there.
They are in there . . .Black smoke stains a summer blue sky. A school is on fire. And one mother, Grace, sees the smoke and runs. She knows her teenage daughter Jenny is inside. She runs into the burning building to rescue her.Afterwards, Grace must find the identity of the arsonist and protect her family from the person who's still intent on destroying them.
Afterwards, she must fight the limits of her physical strength and discover the limitlessness of love.Praise for Afterwards:'Loved The Time Traveler's Wife?
This is even better' Company'Lupton pushes the boundaries of our imagination with the manner in which the mystery is solved, creating a stunningly good read that's impossible to second-guess.
A literary crime novel that's as clever in its premise as it is well written' Glamour'Chillingly good' Red Magazine'A bold, impossible-to-categorise and riveting blend of psychological suspense, literary thriller and the paranormal.
Afterwards proves that Lupton isn't just good - she's wickedly good' Seattle Times'In Afterwards, we see a master's touch on every page.
Uncompromising emotional impact, a poet's sonorous style and a gripping story all come together to make this a transcendent literary experience.
I guarantee this novel will touch everyone' Jeffery Deaver'I became insanely gripped . . . The word "compelling" is used lightly of mystery and crime novels - this one will define it for you' Daily Mail
Information
Format: Paperback
Pages: 480 pages
Publisher: Little, Brown Book Group
Publication Date: 01/06/2011
ISBN: 9780749942168
Free Home Delivery
on all orders
Pick up orders
from local bookshops
Reviews
Showing 1 - 5 of 5 reviews.
Review by readingwithtea
16/06/2015
"I put nine years of experience, the NHS and John Lewis' nursery department between my baby and the dangerous wilds of the Serengeti"In Lupton's latest (I loved Sister but had issues with the resolution), Grace Covey wakes up in hospital disassociated from her body. As she revisits her memories of how she got there, teaming up with her similarly badly injured and disassociated daughter, the criminal behind a terrible deed is slowly revealed.I found the start fairly slow going, because I struggled with the narrative construct of disassociated spirits. Once I got used to that, I was completely engrossed - there was such a long suspect list for the arson but no one really seemed to have enough of a motive. The bad guy, when eventually revealed, was totally unexpected.One of the reasons I loved Sister was because Lupton clearly understood sisterhood; the protectiveness of an older sister, the gentle loyalty of a younger one. Afterwards focuses on motherhood; I can't comment as to Lupton's ability to put her finger on what's special about it, but I liked that as Bee was in Sister, Grace is plain and normal and a little jealous of the Shiny Mummies who turn up with their blow-dried hair. She worries about how much time her daughter spends on Facebook, and she's a bit cagey about her sister-in-law.Every now and again the writing was over-ambitious; there was a grab for the "literary fiction" section of the bookshop incongruous with the simple family setting of the tale. A little inconsistency and the initially off-putting narrative structure are really the only ways I can fault this excellent follow-up novel.
Review by CookieDemon
16/06/2015
After loving `Sister' and then reading some of the reviews on here declaring this one of the most memorable books people had ever read, I approached this with trepidation. Surely this could *not* live up to the hype? Surely I was going to be let down in some way...?Er, `no' and `no' actually. This book sucked me in from the start and I quite happily ignored the real world whilst I read it (thankfully in one sitting). This book, despite the far-fetched premise, is un-putdownable (if such a word exists!) and I definitely preferred it to `Sister.' The ending of this one was also not as much of a disappointment as the former.I won't summarise the story as that has been done countless times already (infact sometimes too much is divulged for my liking), but I will agree that this was just a wonderfully written novel with a fantastic concept, memorable characters and a really heartbreaking premise. The ending left me with a lump in my throat, though I couldn't cry because I was reading it in a public place! I just felt that by that time I'd invested so much emotion in the book, knew the characters so well and they were so relatable that I just wanted things to turn out for the best for all of them.The writing is beautiful and the story flows so well that as a reader you just find yourself turning the pages and wanting to know what happens next. If I could offer any criticisms it would be that I did feel Lupton was trying to drop a few too many red herrings into the plot that were a bit distracting at times and pulled attention away from the present situation a bit too much. The situation with Jenny's `stalker' whilst relevant also got a little bit tedious on occaision. These are small criticisms though and did not prevent me from enjoying the story. I really appreciate the authors winning combination of crime and literature and I'm eager to see what she comes up with next.Though this personally isn't the best book *I've* ever read (that honour most definitely goes to `The Poisonwood Bible'), it is still a worthy five star read. Other reviewers have compared it to Lovely Bones, Time Travellers Wife and similar stories, but I would suggest just taking this on its own merit and enjoying the ride. It goes without saying that I would recommend this book to anyone, no hesitation. What are you waiting for? *This review also appears on Amazon.co.uk*
Review by kraaivrouw
16/06/2015
I was excited to read <i>Afterwards</i> because I so enjoyed <i>Sister</i>, Ms. Lupton's first book. Both were written in unusual styles - <i>Sister</i> is an epistolary novel, <i>Afterwards</i> is written from the point of view of two roving spirits - a mother and daughter - whose bodies are left behind them in a couple of hospital beds. Grace, the mother, spends a fair amount of time communicating various things to her husband (who cannot hear her) and to her daughter (who can). There is a mystery - who caused the fire that nearly killed both women and why?The mystery matters - it's what keeps the plot moving and fuels all the various revelations and introspection, but the heart of the book is one woman's love for her husband and her daughter and her willingness to do whatever it takes to make things whole again. These two loves are illustrated in their differences and in their similarities and while I'm not sure Grace is someone I'd want to spend a lot of time with, I'd definitely want her on my side. She's smart, tough, and tender and virtually unstoppable and I admire that.Ms. Lupton is onto something with her writing. I find her books compelling and thought-provoking, even when I'm not quite sure what's going on or whether what's going on is what I think is going on. She's a good challenging read and these can be few and far between in mystery writing. Worried as I may have been about a sophomore novel after an outstanding debut, I had nothing to worry about. <i>Afterwards</i> is its own unique story, but with many of the stylistic features that I enjoyed about <i>Sister</i>. I'll be interested to see with Ms. Lupton writes next. Highly recommended.
Review by Carolinejyoung
16/06/2015
A very moving ending and plenty of surprises as to the perpetrators of the crime and their motives. I had to keep reminding myself who Grace was speaking to when she mentioned 'you' but that's most likely because a book is not so often written as if directed at another character. I felt Grace waffled a little in her thoughts occasionally but, apart from that, I enjoyed this book.
Review by justinegriffin
16/06/2015
A very moving story about the strength of a Mothers love, had me in floods of tears! :-)