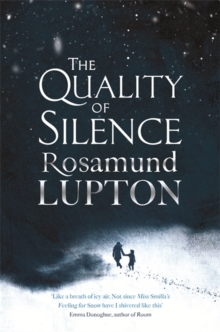 The Quality of Silence : The Richard and Judy and Sunday Times bestseller
Hardback
Description
On 24th November Yasmin and her deaf daughter Ruby arrive in Alaska.Within hours they are driving alone across a frozen wildernessWhere nothing growsWhere no one livesWhere tears freeze And night will last for another fifty-four days.They are looking for Ruby's father.Travelling deeper into a silent land.They still cannot find him.And someone is watching them in the dark.
Information
Format: Hardback
Pages: 352 pages
Publisher: Little, Brown Book Group
Publication Date: 02/07/2015
ISBN: 9780349408125
Other Formats
Paperback from £7.85
EPUB from £0.99
Free Home Delivery
on all orders
Pick up orders
from local bookshops
Reviews
Showing 1 - 3 of 3 reviews.
Review by nicx27
27/01/2016
This is a fascinating, if somewhat implausible, story of Yasmin and her deaf 10 year old daughter, Ruby. Yasmin's husband, Matt, is a wildlife photographer who has travelled to Alaska to work during the winter months. Yasmin and Ruby had arranged to meet Matt there but when they arrive Matt is missing, presumed dead. Neither his wife nor daughter believe that he is dead and they set off on an incredible journey across the bleak landscape to try and find him. Despite the fact that it is quite an implausible storyline, I loved this book. The backdrop of Alaska, particularly during a storm, is stunning and enthralling and I quite often found myself having to stop reading to marvel at it. Yasmin and Ruby are both strong females and I did admire Yasmin for her actions and Ruby's deafness adds another element to the story in her particular vulnerability. There is a real suspenseful element to the book, with a malevolent presence that is out there threatening them in their quest, and the bleak backdrop only adds to it. It's clear that Rosamund Lupton has done a great deal of research and it really helped me to try and imagine how it must have felt for the characters. This is my first of her books but I'm looking forward to reading her earlier work now.
Review by SusieH5
27/08/2015
Absolutely brilliant!Yasmin has been told that her husband Matt has died when an Arctic village was wiped out. Matt, wildlife photographer, was based at Anaktue, an Arctic village, and the village has been wiped out, with no survivors.Yasmin is convinced there has been a mistake, and that Matt is alive, somewhere out there in the cold. She is determined to go and find Matt, taking Ruby with her. Everyone tries to dissuade her and worsening weather makes any journey towards the village inadvisable and very risky, if not impossible.Their journey is fascinating - for the accounts of the atrocious weather conditions, and for the difficulties of communication for the profoundly deaf Ruby, Highly recommended - a great read
Review by theReadingHead
27/08/2015
The Quality of Silence is completely different to the type of books I usually read, but I may well choose others in this genre again.The book covered a number of different topic areas including things like deafness, stalking, parenting, etc. Most of which had me forming opinions and often arguing with the characters. I found the portrayal of deafness, and the strength of the youngster in dealing with it, using Twitter to give her a voice.The stalking element had me freaking out, with tangible fear for Yasmin and her daugher. Although I was fearful for the two of them throughout. I even learned loads about the Arctic and the native wildlife, which was fascinating.The book is not to badly paced, although I did find it a tad slow and tedious in places. Yasmin and her daughter are both well developed and believable too.With the fear, suspense and a few surprises, you'll be glued to this book from beginning to end. A great read for anyone. Enjoy.NB: I received this book free in return for an honest review.