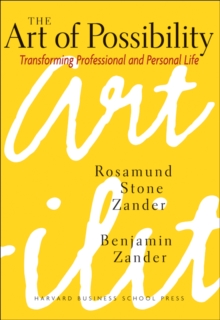 The Art of Possibility
Hardback
Description
The Art of Possibility offers a set of breakthrough practices for creativity in all human enterprises.
This inspirational book is a synthesis of Rosamund Stone Zander's knowledge of cutting-edge psychology and Benjamin Zander's experiences as the conductor of the Boston Philharmonic Orchestra.
Infused with the energy of their dynamic partnership, the book joins together Ben's extraordinary talent as a mover and shaker, teacher, and communicator with Rosamund's genius for creating innovative paradigms for personal and professional fulfillment.
In lively counterpoint, the authors provide us with a deep sense of the powerful role that the notion of possibility can play in every aspect of our lives.The Zanders' deceptively simple practices are based on two premises: that life is composed as a story ("it's all invented") and that, with new definitions, much more is possible than people ordinarily think.
The book shifts our perspective with uplifting stories, parables, and anecdotes.
From "Giving an A" to the mysterious "Rule Number 6" to "Leading from Any Chair"--the account of Ben's stunning realization that the conductor/leader's power is directly linked to how much greatness he is willing to grant to others--each practice offers an opportunity for personal and organizational transformation.
Free Home Delivery
on all orders
Pick up orders
from local bookshops
Reviews
Showing 1 - 2 of 2 reviews.
Review by Steve55
16/06/2015
I remember seeing Benjamin Zander at one of his lectures seven or eight years ago, and being inspired by his message. This book captures much of Benjamin's philosophy in the topic area of the subtitle, 'Transforming Professional and Personal Life'.The book is jointly written with Rosamund Stone Zander who is a family therapist. Drawing equally on Rosamund's experience and that of Benjamin's conducting the world's orchestras, including the Boston Philharmonic, the book takes the form of a 'How to' which instead of providing strategies to overcome life's obstacles, invites the reader into a world of opportunities.With many references to his life in music in the form of analogy and experience, the book sets out a dozen practices which will bring the power of opportunity into your life. The practices are all simple. Each provides a story based explanation of its value drawn from the personal experience gained in the USA and UK by the two authors, and straightforward instruction on its use.As always with the best advice, there is no rocket science here, though the book is more powerful for this, not less. For example 'Giving an A' simply suggests that by approaching everyone we meet prepared and ready to see their best, this very act has already created energy to improve outcomes and create new opportunities in what they achieve. The book's graphic examples bring these simple approaches to life and provide evidence of the power of apparently simple ideas.This is a powerful book. I read this book on a flight to Khartoum, and found some of the insights and examples quite moving. Occasionally the musical references left me struggling a little, but served to highlight a need to learn more and in no way diminished the value of the messages.I heartily recommend this book to everyone determined to improve their lives and in search of simple ways in which to begin.
Review by pjhogan
16/06/2015
More inspiration than practical tips about creativity. It did encourage me to appreciate all the constraints our mental models put on us. I particularly liked the idea of "Rule No. 6": (name comes from an anecdote) which is not to take yourself too seriously. Coda says book is interested in providing reader with "tools for your transformation." Concepts are presented in chapters with anecdotes from authors, a husband-wife team. Ben, a conductor of the Boston Philharmonic Orchestra and Rosamund, a family therapist.
Also by Rosamund Stone Zander