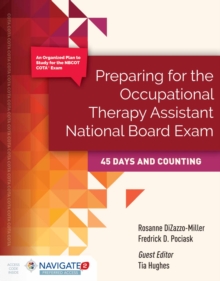 Preparing For The Occupational Therapy Assistant National Board Exam: 45 Days And Counting
Hardback
Description
Each new print copy of Preparing for the Occupational Therapy Assistant National Board Exam: 45 Days and Counting includes Navigate 2 Preferred Access that unlocks a complete eBook, Study Center, Homework and Assessment Center, Navigate 2 TestPrep, and a dashboard that reports actionable data. Preparing for the Occupational Therapy Assistant Board Exam: 45 Days and Counting provides a comprehensive overview for occupational therapy assistant students preparing to take the Certified Occupational Therapy Assistant (COTA) exam.
It utilizes a well-received health and wellness focus and includes tips and self-assessment forms to develop health study habits.
Unlike other OTA exam review guides, Preparing for the Occupational Therapy Assistant National Board Exam: 45 Days and Counting chooses to provide a more organized, methodological approach including a detailed calendar and plan of study for the 45 days leading up to the exam. KEY FEATURES* Chapter outlines cover content found in an OTA curriculum, drawn from a lexicon taken from the Occupational Therapy Framework III (AOTA, 2014)* Chapters are divided into subjects, each addressing the three domain areas of the COTA exam* Workbook pages include specific references used in OTA curricula to enable exploration of challenging or unfamiliar content* Self-study activities with answers are provided at the end of each chapter* Journaling section includes 3-4 questions with a reflective learning approach to help students identify areas of weakness and prioritize studying* Test taking strategies, exam preparation activities, and real life advice for repeating the examMore than a study guide, this book can provide a course-ready capstone in addition to the resources and activities already incorporated into the text.
Utilize this comprehensive resource in your program to help students study for the COTA exam in preparation for a high pass rate in addition to or in place of current methods. ABOUT THE EDITORSThe editors of this edition have the experience and credentials needed to ensure a structured, organized, and effective approach to review a large amount of material in a reasonable amount of time Dr. Rosanne DiZazzo-Miller has been assisting students from across the country for many years on preparing for the board exam, while Dr. Fredrick Pociask has expertise in instructional design and delivery.
Additionally, Dr. Tia Hughes, Guest Editor, has served as Vice-Chairperson of the Accreditation Council for Occupational Therapy Education (ACOTE (R)). Furthermore, all practice question content was reviewed and edited by our Item Writing Specialist - Dr. Sara Maher - who is a well-known and respected Item-Writer in Health Science education.
This ensures that students will be provided with continuous examples of questions, as they will appear on the exam. INSTRUCTOR RESOURCES* Classroom worksheets and study questions* Laboratory guides and learning activities* Slides in PowerPoint format for each chapter
Information
Format: Hardback
Pages: 672 pages
Publisher: Jones and Bartlett Publishers, Inc
Publication Date: 30/08/2017
Category: Occupational therapy
ISBN: 9781284072358