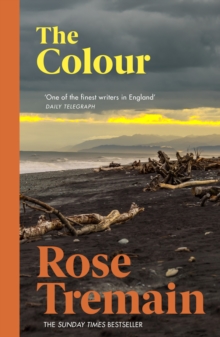 Description
Joseph and Harriet Blackstone emigrate from Norfolk to New Zealand in search of new beginnings and prosperity.
But the harsh land near Christchurch threatens to destroy them almost before they begin.
When Joseph finds gold in the creek he is seized by a rapturous obsession with the voluptuous riches awaiting him deep in the earth.
Abandoning his farm and family, he sets off alone for the new gold-fields over the Southern Alps, a moral wilderness where many others, under the seductive dreams of 'the colour', are violently rushing to their destinies.
By turns both moving and terrifying, The Colour is about a quest for the impossible, an attempt to mine the complexities of love and explore the sacrifices to be made in the pursuit of happiness.
Information
Format: Paperback
Pages: 384 pages
Publisher: Vintage Publishing
Publication Date: 28/02/2004
Category: Historical fiction
ISBN: 9780099425151
Free Home Delivery
on all orders
Pick up orders
from local bookshops
Reviews
Showing 1 - 5 of 9 reviews.
Previous | Next
Review by dylanwolf
16/06/2015
The rugged landscape of New Zealand's South Island and the manifold travails of a settler's life are well described here. I thought the portrayal of Joseph as the inept, thoughtless, gullible husband and Harriet as the faithful, hard-working, resilient wife was a trifle overdone and some of the characters' motivations a little stretched.
Review by MeganS
16/06/2015
Really enjoyed this book - fascinating to have Rose Tremain (who is an author I really like) write a book set in NZ. A new perspective on the country, and the goldrush type history isn't one that I've read much about. Def recommend this!
Review by mbergman
16/06/2015
My least favorite of the 3 Tremain novels I've read. A self-centered man takes his mother & new bride to New Zealand after being disgraced in England. They start by planning a farm, but the man eventually gives in to gold fever. His wife, who "carries herself well," proves to be the strong member of the famly. Like the family in Long for This World, this family struggles, though in very different ways, with greed. Though ostensibly an adventure story, it moves pretty slowly, dwelling, perhaps excessively, with the characters' interior lives.
Review by LizzieD
16/06/2015
If anybody but Rose Tremain had written <u>The Colour</u>, I would think it her masterpiece. It contains wonderfully assured writing and characters in a fascinating historical setting. I liked it less well than <u>The Road Home</u> and <u>Music and Silence</u> because of Joseph Blackstone. He is a damaged man who never finds redemption from the damage he has sustained and inflicted on others. His wife Harriet, on the other hand, is a strong, fascinating survivor whose natural propensity for reaching out to other people makes her a decent human being. Those decent human beings are the reason that I turn to Ms. Tremain again and again. Harriet is far from perfect, but her courage and her ability to care for others and for herself make her a heroine worth reading about. This is a book of visions and of vision, a book that seriously considers the <i>quest</i> beloved by English teachers as a theme in literature. Now that I have finished it, I believe that four stars may be too few, but while I was reading, I was less satisfied than I had been in her other books. I'll let the four stars stand, but say that this one is well worth the time.
Review by lauralkeet
16/06/2015
In 1864, Joseph Blackstone, his new wife Harriet, and his mother Lilian emigrated from England to New Zealand in search of a better life. Lilian, recently widowed, pines for her former lifestyle and resents having to live on their remote farm. But at the same time, she also hopes to rise above her station, and is disappointed to encounter familiar class barriers in New Zealand:<i>The familiar feeling of being snubbed -- a feeling she'd thought belonged only to England, where the disdain of the upper classes infected every encounter -- made Lilian want to weep, or, worse, give Dorothy Orchard a vicious swipe across her badly coiffed head. Lilian was particularly vexed by the knowledge that she never understood exactly how people like Dorothy Orchard achieved their instantaneous mastery over others outside their class. It happened before you noticed it, like a perfectly executed card trick. (p. 78)</i>Joseph is arrogant and stubborn, refusing to listen to advice from the locals on where to build his house, and what materials to use. Joseph and Harriet have an odd relationship. Joseph has a secret in his past, and married for all the wrong reasons. It's not clear what they see in one another, and it doesn't take long for Harriet to realize she will never truly love Joseph:<i>For day by day, she kept secret from him her own lovelessness. It piled up in her. At times, it was not merely lack of love that she felt; it was hatred of the blackest kind. And though she struggled to conceal it from him, perhaps she succeeded no better than he did with his blatant heaps of earth? In the nights, she often awoke at first light to see him staring at her, his eye close to hers, his fists clenched around the sheets. Did he know that she did not love him? Did he understand all too clearly that she loved the wilderness he had brought her to, but not him? (p. 95)</i>Yet both Harriet and Lilian are committed to making their farm a success, even after Joseph finds gold in a nearby creek and decides to join the hundreds of other men seeking their fortunes in New Zealand's gold rush. Circumstances eventually force Harriet to go off on her own, in search of Joseph.The story is told from alternating points of view with chapters narrated by Harriet, Joseph, and a couple of other characters who weave nicely into the storyline. Joseph turns out to be an arrogant and hapless loner, unable to relate to women and desperate to please his mother by accumulating wealth. Harriet is strong and independent, undaunted by Joseph's failings and refusing to bow to societal expectations of women. It is only through Harriet's intelligence that the couple have any chance of finding gold and making something of their lives together.But that's only part of this story; Rose Tremain has more to say than "just" historical drama laced with love. She also shows how the quest for gold took its toll on the land and destroyed both individuals and communities. Those who are untouched by greed and continued leading simple lives were by far the happiest and, one could argue, the most successful.