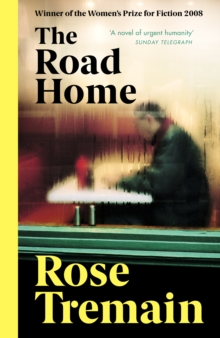 Description
From the author of The Gustav SonataLev is on his way from Eastern Europe to Britain, seeking work.
Behind him loom the figures of his dead wife, his beloved young daugher and his outrageous friend Rudi who - dreaming of the wealthy West - lives largely for his battered Chevrolet.
Ahead of Lev lies the deep strangeness of the British: their hostile streets, their clannish pubs, their obsession with celebrity.
London holds out the alluring possibility of friendship, sex, money and a new career and, if Lev is lucky, a new sense of belonging... Over a million Rose Tremain books sold`A writer of exceptional talent ...
Tremain is a writer who understands every emotion' Independent I`There are few writers out there with the dexterity or emotional intelligence to rival that of the great Rose Tremain' Irish Times`Tremain has the painterly genius of an Old Master, and she uses it to stunning effect' The Times`Rose Tremain is one of the very finest British novelists' Salman Rushdie`Tremain is a writer of exemplary vision and particularity.
The fictional world is rendered with extraordinary vividness' Marcel Theroux, Guardian
Information
Format: Paperback
Pages: 384 pages
Publisher: Vintage Publishing
Publication Date: 01/06/2008
ISBN: 9780099478461
Other Formats
Paperback from £7.09
EPUB from £3.99
Free Home Delivery
on all orders
Pick up orders
from local bookshops
Reviews
Showing 1 - 5 of 14 reviews.
Previous | Next
Review by dylanwolf
16/06/2015
Rose Tremain is numbered amongst my most favourite authors and although her historical novels are probably her best there is much to admire in this contemporary tale of a Polish immigrant making his way in London. There is still a minority thread of underlying xenophobia abroad in England. The ignorant and aggressive John Bull, Little Englander attitude is still prevalent and celebrated in some quarters. So sad when Britannia is at her most glorious when encompassing the full range of cultural diversity that the British people of multitudinous races, creeds and faith bring to our country. Multiculturalism is a gift, a celebration not a burden.There's a surprisingly upbeat end to this novel which, as a whole, illustrates the sacrifices and hard work that immigrants contribute to the societies they try to forge new lives in.
Review by lauralkeet
16/06/2015
Out of work and mourning the loss of his wife, Lev leaves his Eastern European homeland on a bus bound for London. Lev begins life in London homeless and nearly penniless. Lydia, a woman he met on the bus, uses her personal connections to help Lev secure inexpensive accommodation and employment in a restaurant. This is then a springboard for relationships both friendly and romantic, and he begins to develop expertise in food and the restaurant business. His journey is filled with hardship, ranging from typical "fish out of water" scenarios to more serious ethnic prejudice. Whenever trouble strikes, he turns to Lydia for support, but abuses this relationship by failing to realize how their paths have diverged during their time in England.Lev is also plagued by worry about those he left behind. He is in frequent phone contact with his friend Rudi, a carefree contrast to the conservative and somber Lev. Lev's relationship with his mother is primarily about money, which he sends home regularly to provide for her and his young daughter Maya. One day, Lev learns that his home village is threatened and he must develop a scheme to save his family and friends. <i>The Road Home</i> recounts Lev's struggles as an immigrant, and the inner journey of coming to terms with his past, dispensing with demons, and establishing a new direction for his life. I was instantly drawn into Lev's story. His loneliness and isolation were palpable. The important figures in his life, both at home and in England, were rich and believable. In some cases, it was a bit too obvious the purpose Tremain had in mind for each character; however, this did not diminish my enjoyment of this prizewinning novel.
Review by hazelk
16/06/2015
I'd only read one other novel by Rose Tremain, (Restoration), and this of course was quite different and I admire her for being able to change her focus.I thought this would be bleak with the eastern European protagonist trying to make a new life in the UK and coming across prejudice and bad treatment everywhere.Without being sentimental or naive about how such an economic migrant would fare, Tremain is even-handed: our 'hero' is a hard worker and takes some knocks but he comes through. An assortment of characters that he meets either at work or socially have time for him. There is something essentially 'good' about this man.There is the interesting contrast with life in his eastern European homeland and his old taxi-driving pal.There's an unbelievable twist near the end but generally I thought it a 'good read'.
Review by littlebookworm
16/06/2015
After losing his job and his wife, Lev leaves his little daughter with his mother and sets off for London to find work and support his family. By a lucky chance, he meets a woman on the bus who helps him find a job after a brief period of homelessness. Working in the kitchen of an elite restaurant, Lev learns that he loves to cook and carefully observes the chef and other workers to glean their skills. Through a relationship with his co-worker and a path to success in his new career, Lev begins to understand the wider world while growing to appreciate and love his home even more.I felt a little uncertain about this book while I was reading it and I still do now. I'm not quite sure how to review it because it's one of those books that I liked but didn't really like that much. The best part, clearly, was Lev's sense of accomplishment and his ambition once he realized what he really wanted out of his life. I love to read about ambitious, goal-oriented, determined people. Obviously life gets in the way sometimes, but I can identify with them the best. Unfortunately, however, Lev also seems to have a somewhat ignorant or cruel streak towards women. He does not want a relationship after his wife, so he rebuffs one woman, but then he finds another, decides he's in love with her, and ends up treating her quite badly when things don't end the way he expects. The girl is partly at fault for leading him on, but all of his relationships with women bothered me.I did like the entire theme of home running through this novel. Even when Lev makes a groove for himself in London, he still misses the people and the place that is his home. Eventually he realizes that it's the people and not the place itself, but that doesn't stop him from trying to do his best for his home country and making a difference for his family. The title is really well chosen; even though Lev starts out leaving home, the entire novel is at the core about his journey returning and how he's going to get there as a more successful man than when he left.I'm still a little on the fence about whether to recommend this book or not. It is one of those difficult reads that falls in the middle, that I know I'm supposed to love but I didn't manage it. I think if this review intrigues you, the book is probably still worth investigating.
Review by wandering_star
16/06/2015
At the start of The Road Home, Lev has boarded a bus from his Eastern European village where the main employer has closed down. With the expansion of the EU, he is travelling to the UK ("I am legal" is one of the English phrases he has committed to memory) in order to earn money for his mother and his daughter (his wife has recently died of leukaemia). In London, he encounters much that is unfamiliar, but also begins to build friendships, particularly with Lydia, a compatriot he met on the bus, and his Irish landlord Christy, whose ex-wife is preventing him having access to their child.The touching relationship between these two lonely men, both missing their daughters but wishing to do the best by them, is one of the highlights of the book (at least, of the part I managed to read). There's also a nice thread about language and jargon - Lev has had English lessons before coming to the UK but is baffled by the language of job advertisements and room-for-rent notices, of self-improving business-speak, of the posh restaurant where he gets a job in the kitchen.But. This book was highly praised for giving humanity to the anonymous figure of the immigrant. Christy, too, could be another negative stereotype, the deadbeat dad (before his wife left him he was having trouble finding work, and drinking heavily). They are portrayed very sensitively. But for me, this was totally undermined by the fact that the book didn't bother giving humanity to the vast mass of the English working-class (who are all fat, drunken, incomprehensible and greasy-faced). There are several asides which sound to me much more like a middle-class Englishwoman's reaction to modern Britain than that of a working-class Eastern European man. Most of the speech of the British characters is really tin-eared - which grates even more in comparison to, say, the well-written conversations between Christy and Lev. And it seemed to me there was a lot of lazy stereotyping going on. You can see that from the fact that Christy's ex-wife is now shacked up with an estate agent - easily one of the top five most hated professions in Britain. Oh well, then, we just know we can hate him. Wouldn't it have been more subtle if we could have had sympathy for Christy's wife <i>as well</i>? If she had been someone who left him because she couldn't stand the fact that he kept coming home incoherent and throwing up on the hall carpet, but ended up with someone who loved her and was able to care for her and her child? I don't think that would necessarily have made Christy's character any less sympathetic. I know a lot of people have rated this book very highly, and I really, really, really did try. I kept picking it up for another go, but inevitably, after a really moving piece, I would come to something which made me roll my eyes and grind my teeth, and, y'know, that's not really what I look for in my reading. So, onto the 'abandoned' pile it goes.