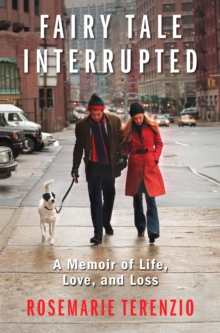 Fairy Tale Interrupted : A Memoir of Life, Love, and Loss
Hardback
Description
Immediately following John and Carolyn Bessette Kennedy's tragic deaths, RoseMarie Terenzio-personal assistant and publicist to John F.
Kennedy, Jr.-was bombarded with seven figure offers to tell her intimate story about the famous First Son, but she declined, believing it was too soon.
Now, the woman who knew the heir to Camelot better than anyone else outside the Kennedy family is ready to tell the extraordinary story of the real man behind the unprecedented legend, who was also one of her dearest friends.
RoseMarie was not immediately impressed with John Kennedy, Jr.
In an awkward yet comedic scene like something out of Ugly Betty,she walked into her office to find that John had taken it over without warning.
John eventually asked her to become his personal assistant and publicist-years later she would become one of his closest confidents, as well as Carolyn's.
For five years, RoseMarie was with John through dating, politics, the paparazzi, his marriage to Carolyn, and was staying at his apartment at the time of his untimely death.
In her memoir, readers will not only see the life of a woman following her dream, but will be granted an inside look at life as a Kennedy.
This is a rare glimpse at the man who has been the subject of unparalleled attention, sensationalism, adoration, and speculation.
Information
Format: Hardback
Pages: 256 pages, no photos
Publisher: Simon & Schuster
Publication Date: 24/01/2012
Category: Memoirs
ISBN: 9781439187678
Free Home Delivery
on all orders
Pick up orders
from local bookshops
Reviews
Showing 1 - 4 of 4 reviews.
Review by bakersfieldbarbara
16/06/2015
What a marvelous book written not from worship of the Kennedy clan but just someone writing about a friend. I loved this book and wish I had read it before others that smacked of Kennedy Worship. JFK, Jr was spoiled throughout his life by his mom and his sister, even though he had some wonderful attributes. He thought nothing would ever happen to him and his decision to fly when others would not have flown shows his adolescent thinking. . I recommend this book to anyone who wants to read about a friendship that ended horribly and left the whole nation in shock.
Review by wirtley
16/06/2015
Easy to read. Tells about Rosemarie Terenzio assistant to John F. Kennedy JR. up until his death. Tells many daily stories about their lives. Interesting. Easy flow.
Review by cherilove
16/06/2015
So much better than I had hoped! Not only do we get a peek into the world of JFK, Jr. while he was publishing George, but we also see a nuanced portrayal of what it is like to be someone who doesn't feel like they fit into the worlds of society, publishing, and politics, yet holds her own every bit of the way. I'm a huge Rosemarie Terenzio fan!
Review by MillieHennessy
16/06/2015
This memoir follows the life of RoseMarie as she starts to work for JFK Jr. and moves up from being a secretary for his magazine to his personal assistant, dear friend, and large part of his life. Her life as his assistant has a lot of glamorous parts, but her job becomes her life and RoseMarie dealt with a lot of stress daily and resentment from other magazine staffers. His and Carolyn's deaths dealt a huge blow to RoseMarie and left her feeling lost and without purpose. I'm pretty sure this is the first memoir I've read, and going into it I knew very little about JFK Jr. (like the fact that he started a magazine). That being said, I really enjoyed this book. RoseMarie wrote in a way that made me feel as though I was reading fiction - I wasn't bored and I was very moved by a lot of the situations she wrote about. However, many times she interrupted a story with another line of thought almost seamlessly, so when she moved back to the original story I felt lost because I'd completely forgotten her first point. The other, minor, detail I found annoying was the handwritten notes she included in her book. There weren't many and it was a great personal touch, but due to the notes being old and the handwriting a little messy, it was almost impossible for me to read them. I wish there had been a typed version as well.