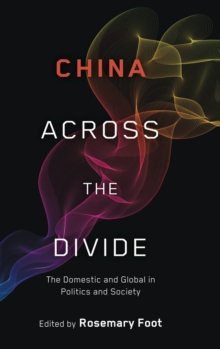 China Across the Divide : The Domestic and Global in Politics and Society
Hardback
Description
Understanding China's world role has become one of the crucial intellectual challenges of the 21st Century.
This book explores this topic through the adoption of three conceptual approaches that help to uncover some of the key complex and simultaneous interactions between the global and domestic forces that determine China's external behavior.
A central assumption of this study is that it is unhelpful to treat the global and domestic levels as separate categories ofanalysis and that the study of China can be enriched by a recognition of the interpenetrated nature of the domestic and international spheres.
The first section of the book concentrates on the role of ideas.
It examines Chinese conceptions, at both the elite and mass levels, of the country's statusand role in global politics, and how these conceptions can influence and frame policies.
The second section provides evidence of Chinese societal involvement in transnational processes that are simultaneously transforming China as well as other parts of the world, often in unintended ways.
The third section assesses the impact of globalization on China in issue areas that are central to global order, and outlines the domestic responses-from resistance to embrace-that it generates.
This studyadopts a multidisciplinary approach involving scholars in International Relations, History, Social Anthropology, and Area Studies.
It offers a sophisticated understanding of Chinese thought and behavior and illustrates the impact that China's re-emergence is having on 21st Century globalorder.