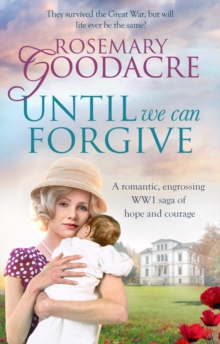 Until We Can Forgive : A romantic, engrossing WWI saga of hope and courage
Paperback / softback
Description
Spring 1919: WWI is over and a fragile peace has descended over the country.
Now living in Cambridge with husband Edmond, Amy Derwent is settling into her new life as wife and mother to little Beth.
But try as she might, the shadow of the Great War looms large, particularly as the injuries Edmond sustained at Ypres still take their toll on him today. Edmond's cousin, Vicky, has now grown into a fine young woman, eager to do her bit and help her country.
Throwing off her privileged background to train as a nurse, she spends her days tending to the many soldiers still suffering the after-effects of their time on the battlefield. Meeting Maxim Duclos, a young Frenchman who has arrived in Larchbury, fills her heart with joy - but when it is discovered that Maxim may be hiding the truth about his past, Vicky is faced with an impossible choice.
Follow her heart's desire and risk her family's disapproval or deny herself the chance of love, but remain a dutiful daughter?The war may be over, but Edmond, Amy and Vicky must all face a new battle, finding their own peace in a country wounded by loss. An unputdownable WWI family saga - fans of Rosie Goodwin, Katie Flynn and Val Wood will love this sweeping, emotional read.
Information
Format:Paperback / softback
Pages:336 pages
Publisher:Canelo
Publication Date:15/10/2020
Category:
ISBN:9781800321694
Also by Rosemary Goodacre