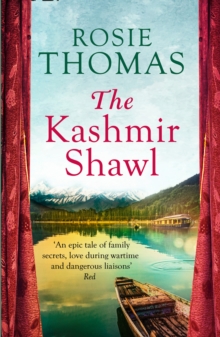 The Kashmir Shawl
Paperback
Description
For fans of The Tea-Planter's Wife and Victoria Hislop comes a gripping story of doomed love and secrets in 1940s Kashmir.Within one exotic land lie the secrets of a lifetime...In 1938, young bride Nerys Watkins accompanies her missionary husband on a posting to India.
Up in Srinagar, the British live on beautiful wooden houseboats and dance and gossip as if there is no war.
But when the men are sent away to fight Nerys is caught up in a dangerous friendship.Years later, when Mair Ellis clears out her father's house, she finds an antique shawl with a lock of child's hair wrapped up in its folds.
Tracing her grandparents' roots back to Kashmir, Mair uncovers a story of great love and great sacrifice.
Information
Format: Paperback
Pages: 512 pages
Publisher: HarperCollins Publishers
Publication Date: 01/03/2012
Category: Historical fiction
ISBN: 9780007285976
Free Home Delivery
on all orders
Pick up orders
from local bookshops
Reviews
Showing 1 - 5 of 5 reviews.
Review by DubaiReader
16/06/2015
An historic saga set in Kashmir.It took me a little while to get into this book at first. Some of the descriptions were a bit dense and the swapping of time scales caused some initial confusion. However, once I had become familiar with the characters they started to feel like friends, particularly those from the 1940's time frame.The central 'character' is a very valuable, finely woven and intricately embroidered Kashmiri shawl, found by Mair while clearing out her parents' posessions after her father's death. Mair is between jobs, has inherited some money, and decides to journey to India with the shawl as an excuse - she wants to find out what she can about her grandmother's life as a missionary in India before and during the war.Interspersed between chapters about Mair's current day travels, is a much more interesting journey through the same country with Nerys Watkins and her missionary husband, Evan, and her two close friends, Myrtle McMinn and Caroline Bowen. This was the section that really grabbed me and the characters that stood out.Once Nerys reached Sringar in Kashmir in 1941, she found the days of the Raj in all their glory; houseboats, drinks at The Club and carefree parties. There was intrigue and gossip, excitement and fun, all more than a quiet missionary's wife from rural Wales had ever encountered. Although a little wary of the excesses, she becomes entwined in the life and falls in love with Sringar. A sequence of events ensues that leaves many open ends, and Mair's current day investigations reveal the answers to many unanswered questions - but should she complete the circle and tell those concerned, or keep her peace?A little unbelievable in parts but altogether an interesting, involving read from an excellent author.Also:A Simple Life 5*Every Woman Knows a Secret 4*
Review by nocto
16/06/2015
Really enjoyed this story that intertwines two generations of Welsh women in India. After the death of her father Mair goes to India with her grandmother Nerys' Kashmir shawl to see if she can find out about the shawl and her grandmother's life in Kashmir. Then the story also tells the story of Nerys' time in India as the wife of a missionary. For a little while I thought the stories were going to echo each other too closely but that didn't turn out to be right and I was glad the stories had their own twists and turns. I also had the expectation of a cheesy ending, which I was also happy to find was incorrect and the book had a very decent ending. I'll trust the author next time!
Review by alekee
16/06/2015
What a story Rosie Thomas was written, she had me walking with the Characters through the streets in India. I could almost smell the goats, as was described. We experience the life with the Raj, and the slums.The story begins with the death of her father, Mair finds a beautiful Kashmir Shawl among the belongings. She also finds an old envelope with some hair stored in it. Thus begins her quest for answers, and her trip to India.There are actually two stories told here, some of it we know but Mair never has all the answers. Mair's Grandmother Nerys and Grandfather Evan are missionaries to India, with WWII going on in 1941, we are about to experience life there. Nerys spends time with Myrtle, and Carolyn, you will enjoy the fun times they make out adversity.I really recommend this as a Historical read, so very interesting. Even when Mair goes there, there is fighting between the Hindu's and the Muslims. So very sad.Putting this combined story together is a real page turner, and even though the book is a bit long, it was a quick read.I received this book through The Bookreporter giveaway, and was not required to give a positive review.
Review by picardyrose
16/06/2015
Nice enough. The plucky heroine faces many tribulations, yet -- spoiler alert! -- finds happiness in the end. That is one very sturdy shawl.
Review by SAMANTHA100
16/06/2015
The Kashmir Shawl, written by Rosie Thomas, opens with Mair Ellis and her siblings going through their deceased father's home in present day North Wales. The discovery of an exquisite Indian made shawl and an envelope containing a lock of hair ignites Mair's curiosity to uncover their history. How had they become part of her father's possessions? Nerys Watkins, Mair's grandmother, died before Mair was born. Nerys and her husband, Evan, had served as missionaries in India in the 1940's and Mair travels to India to learn what she can about their time there and, hopefully, the history of the shawl and the lock of hair.The story is told both in the present and the past, gracefully alternating between the voices of Mair and Nerys. While Mair tries to reconstruct Nerys's time in Srinigar the author gives the reader the treat of reading Nerys's accounting of her life. Even though Mair and Nerys share commonalities, they remain two distinctly different personalities. Each grapples with their own issues. I felt that the more Mair learned about Nerys, the more she began to understand herself.I found this to be a story worth telling. The author skillfully interweaves many different stories all the while captivating the reader. Life is given to a diverse group of interesting characters. History, mystery, great loves and losses as well as a carefully constructed story are the characteristics of this novel. I find myself hoping for a sequel. This is a memorable book and I recommend reading it.I received this book free of charge from Author Marketing Experts, Inc. and the opinions expressed are my own.