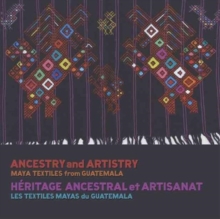 Ancestry and Artistry : Maya Textiles from Guatemala
Paperback / softback
Description
This book explores a century of Mayan textile traditions - from traditional dress to modern artistic and cultural reinvention.
Cloth holds great importance for Guatemala's indigenous communities, and traditional dress plays an essential role in Maya identity today as a vital link with the ancestral past and a means of cultural reinvention.
Whether worn for religious ceremonies or as an emblem of ethnic pride, textiles offer a medium for innovation and creative expression, as well as marketable product for the tourist industry.
Through a range of perspectives reflecting on Maya identity and the effects of global influences on culture and community life in Guatemala, this thoroughly illustrated volume traces a century of dynamic change as well as the remarkable continuity of ancient Maya traditions in the face of significant modernization, political upheaval, and religious transformation.
Information
Format: Paperback / softback
Pages: 120 pages, 60 full-colour illustrations
Publisher: Textile Museum of Canada
Publication Date: 19/09/2013
Category: Textile artworks
ISBN: 9780980908824