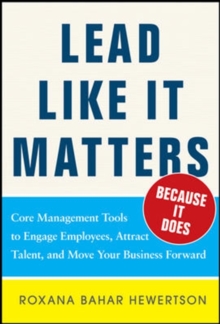 Lead Like it Matters...Because it Does: Practical Leadership Tools to Inspire and Engage Your People and Create Great Results
Hardback
Description
MASTER THE 4 KEY TENETS OF LEADERSHIP--AND CREATE A "RIPPLE EFFECT" OF POSITIVE CHANGE. A CRASH COURSE IN LEADERSHIP THAT REALLY MAKES A DIFFERENCEWhether you're a manager, executive, or CEO, leadership matters.
Whether you're running a large global firm or a small project team, it's the way you communicate and connect to other people that can make or break your success.
The secret, according to Roxi Bahar Hewertson, is to make those connections count--to leverage your skills and play on your strengths--to lead like it matters...because it does. A virtual crash course in leadership, Lead Like ItMatters...Because It Does combines three decades of experience and research with Hewertson's revolutionarywork at Cornell to create the definitive workbook.
Learn how to:Assess your leadership style and skill set--and make adjustmentsCreate constructive dialogues including "managing up" and delegationCut wasteful meetings out of your life and lead productive onesAddress common interpersonal conflicts, quickly and gracefullyIncrease productivity, team effectiveness, and accountabilityLead change initiatives that aren't dead on arrival, but ready for takeoffAs an executive coach, Hewertson knows how to pinpoint the problems, pressures, and pain points that plague managers at every level--and shows you how to fix them.
You'll discover the "ripple effect" that negative leadership choices can have throughout an organization--and how to make positive ripples with clear intent and powerful impact.
You'll find a wealth of practical, user-ready tips for handling conflicts, reducing turnover,making confident decisions, and instituting changes in the workplace.
This book is packed with handy charts, helpful questionnaires, step-by-step checklists, and other must-haves--it's your own personal toolbox of field-tested techniques, right at your fingertips. Take charge of your future. Build the best team you can. Make changes that count. Lead Like It Matters...Because It Does. PRAISE FOR LEAD LIKE IT MATTERS...BECAUSE IT DOES:"Just when you think there is little new to say about leadership, Roxi Hewertson has created this ground breaking work.
I've never seen anything like it. The conceptual framework is powerful, practical and personal.
It introduces an innovative, step-by-step, developmental approach providing the reader not just insightful understanding about how to lead, but a sequence of exercises applying each new concept.
It reflects a lifetime of learning by doing. For those who follow its counsel, Lead Like It Matters . . . Because it Does is transformative."Richard McDaniel, Chairman, Collegiate Retail Alliance, Inc., and coauthor of Measure What Matters"Roxi gets it!
If you want a compendium of current thought about leadership, Lead Like It Matters . . . Because it Does is it. Roxi has a keen grasp of where modern leadership is, and she has created a readable roadmap for those who want to take the trip."Rodney Napier, Ph.D., Principle, The Napier Group, and coauthor of Groups: Theory and Experience"Lead Like It Matters . . . Because it Does is full of 'a-ha' moments and jam packed with practical and deeply researched leadership insights that will positively and immediately transform your work environment."Louise Phipps Senft, Phipps Senft Institute for Relational Leadership "Roxi has given us the valuable and practical must do's, nice to do's, and really don't do's of being an effective leader and creating an enthusiastic and high performance team based on sound theory and solid experience."Tom DeCotiis, Ph.D., cofounder of Corvirtus, LLC, and author of Make It Glow"Roxi is so right! If only our country's leaders would all read Lead Like It Matters. . . Because it Does and learn from Roxi's insights and experience to lead with courage and compassion." Deborah C.
Hoard, President, PhotoSynthesis Productions"Lead Like It Matters . . . Because it Does is NOT a book that you will read through and put on your shelf.
It is a playbook that you will consistently refer to on your leadership journey.
You will come to understand your strengths and opportunities as a leader -- and most importantly have a clear path to make improvements in your own performance.
The chapters are designed so that you can easily find the skill sets and exercises you want to revisit.
Roxi has created dozens of engaging exercises and real-life stories to help you navigate the messy world of leading people and teams."Deborah Howard, CEO, and Andrea Catizone, President, of Senior Living SMART"This book is FULL of leadership insights and practicality.
You will enjoy and profit from Roxi's wisdom and humanity."Robert J.
Fersh, President and Founder of Convergence Center for Policy Resolution"I immediately began using the tools Roxi suggested in to improve my communication, collaboration, and relationships; it's paid off over and over!"Amy Berg, Associate Provost SUNY Cortland"Lead Like It Matters . . . Because it Does offers new and seasoned leaders a very practical road map to effective leadership in today's fast-paced and complex world."Carola Weil, Ph.D.
Dean School of Professional & Extended Studies American University"Finally a book that delivers on its promise!
Roxi provides advice that any leader on any level can benefit from, and more importantly, implement."Raoul Davis, CEO, Ascendant Group"Drawing on her vast experience, Roxi's book provides a clear and compelling guide for personal leadership development -- and a continuous journey of discovery and insight."Carl Haynes Ph.D., President, Tompkins-Cortland Community College"Roxi's book provided me with the knowledge and realistic steps that have guided me to real and positive change in my life and career."Bridget Rigas, VP for Communications and Development, Boyce Thompson Institute"An essential tool for achieving individual leadership effectiveness, Lead Like It Matters...Because It Does guides readers on an in-depth exploration of the values and experiences defining them as leaders; revealing how to best leverage one's unique approach to maximize individual and organizational performance."Nathan Ives, President and CEO, StrategyDriven Enterprises"Budgets and time for professional development are scarce.
From practical self-assessment to delivering creative 'ah-ha' moments about leadership, Roxi offers us a journey through self-exploration and skill building that will help managers truly thrive.
It is a self-paced, high-level accessible training in vital leadership skills; my staff and I will use Roxi's book to embark together on this learning adventure!"Maureen Kelly, CFLE, ACSE Vice President for Programming & Communications, Planned Parenthood of the Southern Finger Lakes"Roxi's remarkable collection of interactive exercises and fresh insights will both excite and challenge today's leaders!
This we know - emotional intelligence is fundamental to success as a leader.
Lead Like it Matters takes this principle and shows you how to develop that intelligence step-by-step; it will forever change the way you lead!"Marshall Goldsmith, top ranked executive coach and author of the New York Times and global bestsellers What Got You Here Won't Get You There and MOJO
Free Home Delivery
on all orders
Pick up orders
from local bookshops
Also by Roxi Bahar Hewertson