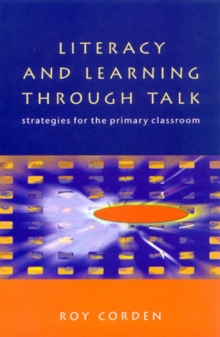 LITERACY and LEARNING THROUGH TALK
Paperback / softback
Description
This book focuses on the inter-relationship between reading, writing and speaking and listening.
Psychologists and educationalists, influenced by the work of Vygotsky, have emphasised the importance of social interaction in learning, and the National Writing, Oracy and LINC Projects highlighted the need for quality interactive pupil discourse and effective teacher-pupil interaction.
However, although the DfEE claims that the successful teaching of literacy is characterised by good quality oral work, speaking and listening is not included in the National Literacy Strategy Framework and the Literacy Training Pack does not address the issue. Literacy and Learning through Talk blends theory, research and practice to show how an integrated programme of work can be developed to ensure that literacy is taught in a vibrant and stimulating way.
Strategies for developing successful group work and whole class, interactive discourse are examined and effective teaching roles and questioning techniques are explored.
Transcripts of group discussions and examples of children's work illustrate various points and work plans and practical classroom activities are described.
Information
Format: Paperback / softback
Pages: 208 pages, references, index
Publisher: Open University Press
Publication Date: 01/07/2000
Category: Primary & middle schools
ISBN: 9780335204502