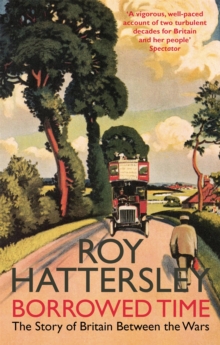 Borrowed Time : The Story of Britain Between the Wars
Paperback
Description
Called an uneasy peace, the twenty years between the wars were a time of turmoil - Britain saw a general strike and the worst economic crisis in its history, armed rebellion in Ireland and open revolt in India, a Prime Minister's resignation and the King's abdication.
Crisis followed crisis until Britain was engulfed in the Second World War - a catastrophe that could have been foreseen, possibly even prevented.
But there were also moments of triumph: England regained the Ashes and Britain ran to glory in the 'Chariots of Fire' Olympic Games; the BBC was born and became the envy of the free world; there was a renaissance in poetry, sculpture of genius, and cinema lightened the darkness for millions.
However it is the politicians who failed who have really come to personify the interwar years - in particular Ramsey MacDonald and Stanley Baldwin. Both prime ministers were better men than history allows. And Winston Churchill? Right or wrong, success or failure, he is the irrepressible force in what he called the 'years for the locusts to eat'.
Hattersley's assessment of this doomed era is illuminating, entertaining and bold.
Information
Format: Paperback
Pages: 464 pages, Section: 16, b/w pix
Publisher: Little, Brown Book Group
Publication Date: 05/02/2009
Category: British & Irish history
ISBN: 9780349118949
Free Home Delivery
on all orders
Pick up orders
from local bookshops
Reviews
Showing 1 - 2 of 2 reviews.
Review by cappybear
16/06/2015
I agree with much of what eglinton said, and found the chapters on sport, art and the media generally more interesting than those on politics and world affairs. At times, the book read like a series of essays rather than a coherent whole, and my edition (2007) was dotted with date errors and references to notes that didn't exist. Worth reading for the good sections alone, but a curate's egg.
Review by Eyejaybee
16/06/2015
I met Roy Hattersley nearly twenty-five years ago in the marvellous old Hatchards bookshop on the Strand when both of us reached for the same copy of Julian Barnes's "A History of the World in Ten and a Half Chapters". Our subsequent conversation was bordered on the bland - I think that I said, "After you" and he muttered a brief "Thank you". Despite this burgeoning friendship (reference to which was strangely omitted from his memoir "Who Goes Home) I had often felt that he tended to be unnecessarily long-winded when speaking on television or radio, even to the point of being a bit of a windbag.However, there is son such problem when he puts pen to paper (or fingers to keyboard). This book is remarkably lucid and gives a well-structured and surprisingly politically objective account of Britain during the years between the First and Second World Wars.I found his chapter on the events leading up to the abdication of King Edward VIII particularly enlightening. it is difficult now to appreciate how alarming the constitutional crisis was at the time, and Hattersley captures the mood with great clarity. Similarly the economic crisis of 1931 is handled with great lucidity, rendering the detailed and convoluted transactions readily accessible to the non-specialist reader.I particularly enjoyed his chapters on literary and culture developments during that period, including the explosion in numbers of people visiting the cinema (with over a billion cinema tickets being bought in Britain in 1938).Hattersley has a particular ability to convey a lot of statistics unobtrusively and without causing the reader's eyes to glaze over.Although this book does not offer any startling new insights to the period I found it very enjoyable and informative.