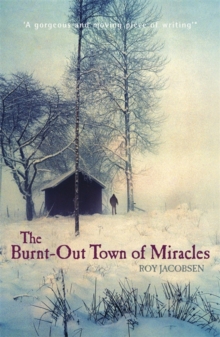 The Burnt-out Town of Miracles
Paperback
Description
Set in Finland in 1939, this is the story of one man who remains in his home town when everyone else has fled, burning down their houses in their wake, before the invading Russians arrive.
Timo remains behind because he can't imagine life anywhere else, doing anything else besides felling the trees near his home.
This is a novel about belonging - a tale of powerful and forbidden friendships forged during a war, of unexpected bravery and astonishing survival instincts.
The Burnt-Out Town of Miracles is not a novel about war, but about the lives of ordinary people dragged into war, each of whom only wants to find the path back home.
Roy Jacobsen uses the dramatic natural landscape of light and darkness, fire-blazing heat and life-robbing cold to spectacular effect.
Information
Format: Paperback
Pages: 208 pages
Publisher: Hodder & Stoughton General Division
Publication Date: 16/10/2008
ISBN: 9780719521126
Free Home Delivery
on all orders
Pick up orders
from local bookshops
Reviews
Showing 1 - 5 of 5 reviews.
Review by Imshi
16/06/2015
I quite liked this book! I'd been reading and reading about the Winter War and the battle of Suomussalmi in non-fiction books, but it was nice to find a story that put a human face to all the facts. I found it to be an engaging read, though it didn't quite grab me as much as I'd hoped (maybe it has to do with the translation; I'm not sure) Overall, a good book. I'd recommend it to anyone interested in the Winter War.
Review by carrielatimer
16/06/2015
Go ahead, judge the book by its cover... the writing style is bleak, the context is bleak... it completely transported me!
Review by jayne_charles
16/06/2015
The cover of this book states 'As chosen by The Times Book Group'. This is a group I have never heard of, but I'm guessing they don't sit around discussing Jackie Collins novels. Not surprisingly this was more cerebral than entertaining. It follows Timo, a Finnish woodsman who refuses to leave his town as it is evacuated and burned ahead of the Russian invasion of 1939. The book looks at Timo's isolation as he is treated with suspicion by the invading forces, and later by his own countrymen.The text is frequently repetitive, and a little distant, a great deal less sensationalist than other 'war is hell' -type books. At one point, for example, a group of characters sit down to rest on what they think is a snow-covered log, but which turns out to be a stack of corpses, but this episode was narrated with a feeling of detachment.The prose is heavy with meaning, and whilst I found the story informative I am sure I didn't discern all of its subtleties. Definitely a task for the Times Book Group!
Review by Mijk
16/06/2015
I read this during the coldest December on record in the UK. The narrator is 'the village idiot', but of course he isn't. Trees, forests, frost and COLD, all enveloping the insane chaos inside a war that most of the world doesn't even know took place. At first I thought i wouldn't like it, but it captivated me, right through to the heart-rending, but possibly redemptive, ending. Odd to learn that the author is not Finnish, but Norwegian.
Review by TheBookJunky
16/06/2015
A Norwegian writer. Takes place at the begnning of the war, in 1939, in Finland. One simple man, Timo, refuses to flee his town from the advances of the Russian army.