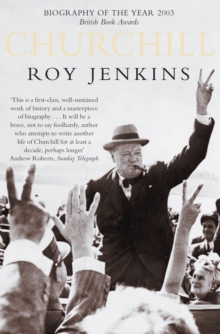 Churchill : A Biography
Paperback
Description
From the admiralty to the miner's strike, from the Battle of Britain to the Nobel Prize, Churchill oversaw some of the most important events the World has ever seen.
Roy Jenkins faithfully presents these events, while also managing to convey the contradictions and quirks in Churchill's character.
In depth analysis and brilliant historical research make this a magnificent one-volume biography of an extraordinary life.
In some ways a companion piece to his excellent biography of Gladstone, "Churchill" is packed with insights that only a fellow politician could convey. "There is no doubt that he has surpassed himself. This is the biography of the year." - Robert McCrum, "Observer". "This is a first class, well-sustained work of history and a masterpiece of biography " - Andrew Roberts, "Sunday Telegraph". "Lord Jenkins of Hillhead is an outstanding biographer...it has the narrative power, sweep and sparkle of the author in his prime." - John Grigg, "Times".
Information
Format: Paperback
Pages: 1020 pages, b&w and colour photographs
Publisher: Pan Macmillan
Publication Date: 01/06/2002
ISBN: 9780330488051
Other Formats
EPUB from £11.99
eAudiobook MP3 from £37.76
Free Home Delivery
on all orders
Pick up orders
from local bookshops
Reviews
Showing 1 - 3 of 3 reviews.
Review by johnthefireman
16/06/2015
A good biography of Winston Churchill. As might be expected in a book by someone of the calibre of Roy Jenkins, it concentrates on politics and gives fascinating insights into the British parliamentary system. It's an excellent book as far as content is concerned, but I find some of the writing rather dense. Jenkins has a tendency to hide the main clause at the end of a long and convoluted sentence after so many qualifying clauses that you've forgotten what it was all about by the time you get there. He also uses some rather obscure words.
Review by BookMarkMe
16/06/2015
A good biography with a political bias that I occasionally found tiresome
Review by Helenliz
16/06/2015
 This is an epic book about an almost unbelieveable life, a classic case of fact being stranger than fiction - you couldn't make it up. His early life is the stuff of a boy's own adventure story, dashing across the british empire fighting natives, being captured by the Boer and escaping. <br /><br /><br /><br />The politics could be rather dull and confusing to someone not really interested in the mire of modern politics, but Jenkins manages to make this somehow slightly noble! The parties and Churchill's floor crossings are explained as are the big issues of the day. <br /><br /><br /><br />The second world war period - for which, I suppose he is most associated - does not dominate the book. Of the 46 chapters, 12 are devoted to this period of years. It also goes a long way to describing how his life to date had uniquly prepared him for exactly that time in history. It is un-nerving to think what would have happened had he not been in the right place at the right time. <br /><br /><br /><br />My only critisism is that the book ends, almost abruptly, at Churchill's death. I know a biography usually ends with the death of the subject, but I can't help feeling it might have been nice to have a summary chapter, maybe discussing his legacy. <br /><br /><br /><br />Jenkins' text is a delight to read, extremely erudite and with a wonderfully wide vocabulary. At approaching 1000 pages, paperback maybe isn't the best format for this book. After 1 read, the spine of my new copy is intact, but the front cover is looking distinctly dog-eared.