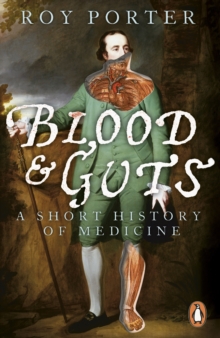 Blood and Guts : A Short History of Medicine
Paperback
Description
Mankind's battle to stay alive is the greatest of all subjects. This brief, witty and unusual book by Britain's greatest medical historian compresses into a tiny span a lifetime spent thinking about millennia of human ingenuity in the quest to cheat death. Each chapter sums up one of these battlefields (surgery, doctors, disease, hospitals, laboratories and the human body) in a way that is both frightening and elating. Startlingly illustrated, A SHORT HISTORY OF MEDICINE is the ideal presentfor anyone who is keenly aware of their own mortality and wants to do something about it. It is also a wonderful memorial to one of Penguin's greatest historians.
Information
Format: Paperback
Pages: 224 pages
Publisher: Penguin Books Ltd
Publication Date: 26/06/2003
Category: History of medicine
ISBN: 9780141010649
Free Home Delivery
on all orders
Pick up orders
from local bookshops
Reviews
Showing 1 - 3 of 3 reviews.
Review by kidzdoc
16/06/2015
Roy Porter was one of the greatest of all Western medical historians, who taught for many years at University College London, until his early and untimely death in 2002. He has written or edited over 100 books on medical history, the Enlightenment, London and England, including Flesh in the Age of Reason, The Greatest Benefit to Mankind, and Enlightenment: Britain and the Creation of the Modern World.Blood and Guts covers the history of Western medicine from antiquity to the beginning of the 21st century, and is divided into eight explanatory chapters: "Disease", "Doctors", "The Body", "The Laboratory", "Therapies", "Surgery", "The Hospital" and "Medicine in Modern Society". Porter manages to pack an amazingly comprehensive yet quite readable account of Western medical history in a small book (169 pages of text, of which 30-40 pages are used for illustrations). Included is a sizable bibliography for further reading, including Porter's more comprehensive works.Although most of the information in the book was familiar to me, I did learn a few things, particularly about the differences between the development of specialists and generalists in the US and UK, and the development of the modern hospital in Europe. There is no discussion of the development of medicine in Canada, and I would have liked more information about the role of nursing in the modern hospital after Elizabeth Fry and Florence Nightingale. However, I doubt that there is a better short introduction to Western medical history, for medical practitioners or a lay audience.
Review by marwanbadri
16/06/2015
Although the title indicates that its only a "short" history of medicine, I felt that there was very little emphasis on modern, twentieth century medical developments. On the other hand, ancient medical practices (which lacked significantly in the areas of diagnostics and therapeutics, hence hardly of much importance) receive obvious attention in several chapters throughout the book. For example, the author only dedicated a very short paragraph for CT scans and MRI's. These two imagining modalities revolutionized modern medicine and in my view deserve more than a few lines. Of interest, is a point well described in the book, that is the vital shift in medical teaching when medical schools were linked to hospitals (one would think that the two have always been closely associated). This point illustrates the importance of combining clinical teaching with basic science for better understanding of the pathophysiology of diseases.
Review by Widsith
16/06/2015
This is one of those 'surrogate' books – I bought it because I really wanted something else, so any disappointment is my own fault.The book I <i>wanted</i> was Porter's <i>The Greatest Benefit to Mankind</i>, his mammoth tome on the history of medicine, but my friendly neighbourhood bookshops never seem to have it when I'm in the mood. Instead, I bought this, which I thought might tide me over.To be fair, the clue is in the title. This history of medicine really is short – if you take off the notes, bibliography and the many full-page illustrations, you're left with barely 150 pages of text. (Edit: I just counted, it's actually 130.) Like a literary amuse-bouche, I thought it might whet my appetite for the bigger version (excuse the dangling modifier), but despite the clear labelling I unfortunately found it more frustrating than stimulating.The approach is thematic: eight chapters, each dealing with a different aspect of medicine, including disease itself, anatomy, surgery, the hospital, and so on. So we have a score of pages on each, running very briskly from antiquity to now, before resetting the clock again at the start of the next chapter. Porter's prose is as wonderful as ever, and his conclusions typically judicious. But the frenetic pace doesn't show off his talents to best effect, and the merciless effort to pare things down to the essentials means there's little room for all the grisly anecdotes of mediaeval births and eighteenth-century amputations that you want from something like this.My preconceptions aside, this <i>is</i> a solid grounding in the story so far, and it will bring you up to speed. It will also have you thanking all the gods, once again, that you were born in the era of anaesthetics and antibiotics (although, as always, you can't help wondering what future generations will consider appalling about our own time).It has some interesting things to say about modern medicine too, especially the drive towards healthcare-as-business in the US: I was amazed to read that one head of the Hospital Corporation of America was a former fast-food manager who said approvingly that 'the growth potential in hospitals is unlimited: it's even better than Kentucky Fried Chicken'. 'In the USA health insurance became a lasting political football,' Porter comments mildly in 2002. (Oh Roy, if you only knew.)<i>'Compulsory Health Insurance,' declared one Brooklyn physician, 'is an Un-American, Unsafe, Uneconomic, Unscientific, Unfair and Unscrupulous type of Legislation supported by…Misguided Clergymen and Hysterical Women.'</i>Porter is surprisingly ambivalent when it comes to giving an overall verdict on modern medicine, taking the view that improvements in life expectancy and pain relief are offset by commercialisation and a dubious record in how well western techniques have been exported to the developing world. (That is, investing in basic hygiene and nutrition might have been better than exporting expensive pharmaceuticals.)I can't give this less than three stars, because the facts are all there and he writes beautifully. Unfortunately, the fact is that I wanted a lobster thermidore and I ended up nibbling a breadstick.