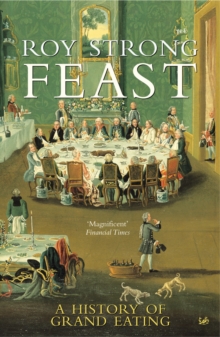 Description
Toenails cut while dining out, meals served to wax effigies of the dead, napkins concealing singing birds, dishes descending from the ceiling - these are just a few of the more exotic aspects of everyman at table.
From the stupendous banquets of the Ancient Babylonians, Fest covers five millennia of formal eating.
Sharing a meal, in particular a grand one, has always been a complex social mechanism for uniting and dividing people.
Such an event could signal peace, a marriage, a victory, an alliance, a coming-of-age, a coronation or a funeral.
The feast was a vehicle for display and ostentation, for the parade of rank and hierachy, for flattering and influencing people as well as providing a theatre in which to excercise the art of conversation and the display of manners.
Feast offers a fascinating and, at times, a highly unusual mirror of society.
It gathers together for the first time all the ingredients which contributed to the phenomenon of the celebratory meal- the people, the clothes, the food, the setting, the action and its circumstances.
In an age which has virtually abolished the shared meal as a central feature of daily living, Feast presents a revelatory picture
Information
Format: Paperback
Pages: 368 pages
Publisher: Vintage Publishing
Publication Date: 06/11/2003
Category: Social & cultural history
ISBN: 9780712667593
Free Home Delivery
on all orders
Pick up orders
from local bookshops